President starts state visit to Gabon
( 2004-02-02 11:19) (Xinhua)
President Hu Jintao arrived Libreville Sunday afternoon to start his state visit to Gabon, the first trip to the African nation by China's head of state in three decades.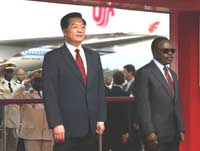 Gabonese President El Hadj Omar Bongo Ondimba greeted Hu with a welcoming ceremony at the airport.
Upon arrival, Hu said in a written speech that the peoples of China and Gabon cherish traditional and profound friendship for each other. Since the two nations forged diplomatic ties in 1974, Hu said, bilateral friendly cooperation has been proceeding in a stable and healthy way, and has stood the test of time and the changing international circumstances.
Bilateral political contacts have been increasingly close while friendly cooperation in all fields has been expanded in a continuous way, he said.
This year marks the 30th anniversary of establishment of diplomatic ties between the two countries, Hu said, adding the Chinese side is ready to join the Gabonese side to push bilateral friendly cooperation to a new high.
Shortly after Hu's arrival, Mayor Andre Dieudonne Berre of Libreville presented him with a key to the city and declared him an honorary citizen.
The key symbolizes the friendly sentiment the Gabonese people cherish for the Chinese people, Hu said, adding he hoped the friendship between the two peoples be further developed.
Hu's wife, Liu Yongqing, and State Councilor Tang Jiaxuan arrived aboard the same plane.
During the three-day visit, Hu is expected to address the Gabonese parliament on Monday and expound China's policy on developing and strengthening ties with Africa.
Gabon is the third leg of Hu's four-nation tour, which will also take him to Algeria for a state visit. He had just concluded a state visit to France and Egypt.