9/11 panel details missteps in attacks
( 2004-01-31 17:24) (Agencies)
It's long been known that U.S. authorities had opportunities to stop at least some of the Sept. 11 hijackers. Now the extent of the government's failures is coming to light.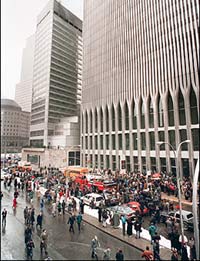 Firefighters and rescue crews work outside the World Trade Center, seen here on 26 February 1993, after it was bombed. [Reuters/file]

At a two-day hearing this week, the federal commission investigating the attacks revealed U.S. authorities had numerous opportunities to stop the hijackers, including many face-to-face encounters.

The missteps included miscommunications about al-Qaida operatives dating back to the mid-1990s, hijackers who were allowed to repeatedly enter the United States even with false or the wrong visa papers, and missed chances to stop suspects at airport security checkpoints despite warning signs.

"We were asleep. Opportunities were lost," said former New Jersey Gov. Thomas Kean, a Republican who chairs the bipartisan National Commission on Terrorist Attacks Upon the United States. "The hijackers analyzed our system and developed a plan they felt sure would beat it in every case, and 19 out of 19 succeeded."

Congress established the commission to study the nation's preparedness before Sept. 11, 2001, its response to the attacks, and to recommend ways to prevent such disasters.

The errors documented by the commission date back to just after the 1993 World Trade Center bombings and continued until the fateful day in 2001. The panel found airline security stopped nine of the 19 hijackers on the day of the attacks but let them go.

All five of the hijackers on American Airlines Flight 77 at Dulles International Airport outside Washington were flagged as security risks. All that was required then was that their checked bags be searched for explosives. None was found, so they were allowed to board.

Three of them also had carry-ons that set off alarms on X-ray belts. However, despite one or two additional checks, they successfully got on the plane with pocket knives and box cutters. That plane crashed into the Pentagon.

Three of the five hijackers on American Airlines Flight 11 from Logan International Airport in Boston, as well as one hijacker on United Airlines Flight 93 from Newark International Airport in New Jersey, also were stopped as potential security risks. But they were allowed to board after their baggage tested negative for explosives.

The panel also found FBI and CIA officials did not share knowledge about al-Qaida or played down that information with customs, immigration and FAA officials.

Consequently, some of the hijackers escaped capture despite questioning by customs officials after they submitted improper visa forms or acted suspiciously. The commission said if military intelligence were shared about al-Qaida and their tendency to travel on Saudi passports, authorities would have known to stop them.

But at least two and as many as eight of the hijackers were allowed to enter on fraudulent visas. Six of the hijackers eluded detection even though they overstayed their visas or failed to attend the English language school for which their visas were issued.

"The evidence is pretty damning," said Michael Greenberger, director of the Center for Health and Homeland Security at the University of Maryland. "There were many signals to the White House that we were in a state of high danger in the summer of 2001, yet no leadership was exercised to shake the agencies down."

Two known al-Qaida operatives were on a special terrorist watch list known as Tipoff, but airline officials were unaware because it was separate from the FAA's list of people barred from flying. A former FAA official acknowledged at Monday's hearing he had not known until this week that Tipoff existed.

"The question is, can you take an institution like the FBI and change its culture so it is focused on prevention of acts of terrorism rather than prosecution of criminal acts," said former Rep. Lee Hamilton, D-Ind., the panel's vice chairman. "That's a major question in homeland security."

The panel faces a May 27 deadline. It wants two more months to complete its work but faces resistance from House GOP leaders and the Bush administration. They fear the process could become too politicized if it's released in the days near the November elections.

Kean has said many midlevel officials clearly could have prevented the attacks, but has reserved judgment on top officials in the Bush and Clinton administrations. The panel is seeking interviews with Bush and Clinton and plans to meet soon with national security adviser Condoleezza Rice.

"We'll pursue every lead and follow the trail wherever it goes," he said. "When our report comes out, we're not going to mince words."