Kerry focuses on Bush ahead of primaries
( 2004-01-31 17:24) (Agencies)
Hoping to cement his front-runner status in the race for the Democratic presidential nomination, John Kerry is campaigning for the biggest prize available Tuesday, armed with fresh labor backing but increasingly the target of rivals.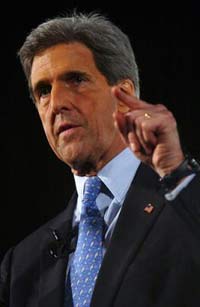 Democratic presidential hopeful Sen. John Kerry, speaks during the Center for Community Change Presidential Forum, Friday, Jan. 30, 2004, in Columbia, S.C. [AP Photo]

Howard Dean, his own campaign jolted by stunning early losses and sagging polls, stepped up his criticism of Kerry, arguing that the Massachusetts senator's public record is lacking in accomplishments. It was a theme he launched in campaign debate this week.

Democrats, Dean argued, should pick "a doer not a talker" to face off against President Bush, a theme echoed by retired Gen. Wesley Clark, who argued that Kerry is little more than a traditional politician who says whatever's necessary to get elected.

"We're not going to beat George W. Bush with old-style, fudge-it-up politics," Clark said.

Kerry's campaign dismissed the criticism as coming from candidates who are watching the nomination slip away from them. Ignoring his rivals, Kerry was focusing his fire on Bush, and mixing his criticism of Bush with a call for Democrats to stump "in the best spirit of hope and optimism.

"We can stand up and lead America to a stronger, safer world," Kerry told a cheering union-hall crowd in Wilmington, Del.

He has vowed to campaign in all seven states holding primaries and caucuses on Tuesday, and he flew into Kansas City for his second swing through Missouri, the biggest prize with 74 pledged delegates at stake.

From there, Kerry was heading to Oklahoma, then to North Dakota for a rally Sunday. He wraps up the campaign swing in New Mexico and Arizona as the week opens. Campaign strategists were still deciding where to spend election night, a key symbolic decision based largely on their thinking of how things will turn out at the polls.

Polls have found Kerry with a commanding lead in Missouri, Arizona and North Dakota, representing 143 of the 269 delegates at stake. Polling shows him competitive in South Carolina and Oklahoma, and party leaders give him the edge in New Mexico and Delaware.

Kerry's goal was clear, running the table with a sweep Tuesday that would likely knock Clark and North Carolina Sen. John Edwards from the race. He then points to caucuses in Michigan next Saturday to score a knockout against the floundering Dean campaign.

Clearly aware of the pressure, those rivals were sharpening their assaults on Kerry.

"If Senator Kerry had accomplished anything in health care, he ought to be able to explain to the people of South Carolina how come there are so many uninsured kids here and there aren't any in my state," said Dean, a former governor of Vermont.

Kerry spokeswoman Stephanie Cutter responded: "If Howard Dean wants to talk about records of accomplishment, then he has some explaining to do about balancing the Vermont budget on the backs of the poor, not taking action to better secure a nuclear power plant in the wake of Sept. 11 and throwing 400 family farms out of business."

Dean bristled at Kerry's suggestion that the former governor doesn't know enough about how Congress works. "That's just Washington blather," he said.

Dean's new campaign chief, Roy Neel, said in a strategy memo that Dean's aim is to do as well as he can in the delegate hunt until the Wisconsin primary on Feb. 17, where he figures to be Kerry's top challenger.

Dean, already a loser in New Hampshire and Iowa, has said he does not need to win any of the seven states who vote in the next round on Tuesday. He said his goal is to stay in the race by winning as many delegates as possible in those states ¡ª South Carolina, Missouri, Arizona, Delaware, New Mexico, North Dakota and Oklahoma.

In Washington, the Communications Workers of America, with 700,000 members, endorsed Kerry and Michigan's largest teachers union, the 157,000-member Michigan Education Association, gave its support. A third union, the Sheet Metal Workers International Association, plans to announce its backing next week.

Bush announced plans to travel to South Carolina two days after the primary, very similar to a trip he took to New Hampshire to counter the pounding he is taking from the Democratic field.

Clark was headed west, planning stops in Arizona, New Mexico and Oklahoma, where polls give him the best chance of scoring a breakthrough. He was being joined by Edwards who was sweeping through New Mexico and Oklahoma.

Connecticut Sen. Joe Lieberman was sticking close to home with an appearance in Delaware.