Luoyang hotel fire kills 7, injures 17
( 2004-01-30 23:50) (China Daily)
Seven people are confirmed dead from early yesterday's blaze at a hotel in Central China's Henan Province, with 17 others seriously injured.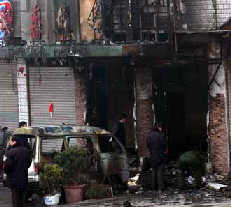 Police inspect a charred hotel building in Luoyang, Central China¡¯s Henan Province, after a fire that killed seven people and injured 17 others, January 30, 2004. It is said that improper use of fire by a hotel staff started the fire in the Deep Forest Hotel in the early hours Friday morning. [newsphoto]
All the injured are undergoing medical treatment at local hospitals and a suspect has been arrested, according to local police.
Firefighters in Luoyang rushed to the Shensen Hotel two minutes after they received the report yesterday morning.
A total of 22 firefighters were sent to put out the fire and a rescue team, headed by vice-mayor, was immediately set up.
The blaze was caused by Liu Yongjie, a security warden at the hotel, who accidentally set his overcoat ablaze with a coal fire.
Liu, who was on the run after the incident, was caught by local police later yesterday.
According to Ministry of Public Security, a total of 17,000 fire accidents were reported across the country during the seven-day-long Spring Festival holiday, claiming 141 lives, and costing over 40.5 million yuan (US$4.9 million).
The number of accidents caused by residents setting off fireworks and firecrackers accounted for 41.2 per cent, large increase compared to the same period of last year, statistics revealed.