China reports suspected cases in 3 new regions
( 2004-01-30 21:54) (Agencies)
China reported four new suspected outbreaks of deadly bird flu in three new regions, bringing the total number of confirmed and suspected outbreaks to seven.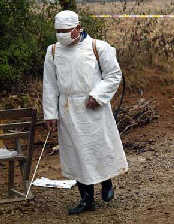 A medical worker sprays disinfectant to prevent the spread of the bird flu virus, near a chicken farm in Anlong, Southwest China's Guangxi Zhuang Autonomus Region, after discovering the country's first bird flu case. [newsphoto]

"New suspected bird flu cases were discovered in Anhui (province), Shanghai city and Guangdong (province)," the Xinhua news agency said Friday.

Two of the four new outbreaks of H5N1 bird flu were in East China's Anhui province, while one was in the eastern coastal metropolis of Shanghai and the other in the southern province of Guangdong, Xinhua said.

China Friday also officially confirmed two previously suspected outbreaks of bird flu in Central China's Hunan and Hubei provinces.

Earlier this week, a confirmed outbreak of bird flu was also reported in Southwest China's Guangxi Zhuang Autonomous Region, bordering Vietnam.

The new suspected cases were located in Anhui's Guangde county and Ma'anshan city's Yushan district; and Shanghai's suburban Nanhui district and Guangdong Province's Jiedong county.

"Local officials have immediately taken measures to gather and kill (the poultry) and order vaccinations ...," Xinhua said.

Details of the outbreak locations were not given and it was unclear whether they were chicken or duck farms.

"The epidemic has been brought under control. No infections have been discovered in humans," the Xinhua report said.