US military 'sure' to catch bin Laden
( 2004-01-30 09:01) (Agencies)
The U.S. military is "sure" it will catch Osama bin Laden this year, perhaps within months, a spokesman declared Thursday, but Pakistan said it would not allow American troops to cross the border in search of the al-Qaeda leader.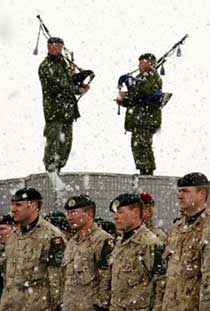 Canadian soldiers stand at attention as army pipers play during a memorial service for Cpl. Jamie Brendan Murphy, 26, of Conception Harbour, Newfoundland, who was killed Tuesday in a suicide bombing attack, Wednesday, Jan. 28, 2004, in Kabul, Afghanistan. [AP]

Thursday also was one of the deadliest days for American forces in Afghanistan: Seven soldiers were killed when a weapons cache exploded southwest of the capital. Three other American soldiers were wounded and another was missing after the blast, the U.S. Central Command said.

U.S. military spokesman Lt. Col. Bryan Hilferty's prediction about capturing bin Laden comes as the Army readied a spring offensive against Taliban and al-Qaeda holdouts. A U.S. official hinted Wednesday that the offensive might extend into Pakistan.

Bin Laden, chief suspect in the Sept. 11, 2001, attacks that sparked the U.S.-led invasion of Afghanistan, is believed to be holed up somewhere along the mountainous border.

Pakistani Brig. Javed Iqbal Cheema, a senior security official who coordinating counterterrorism efforts with U.S. officials, said Pakistani policies do not allow American troops to operate in the country.

The U.S. commander in the region, Gen. John Abizaid, said Thursday American forces will continue conducting "limited military operations" along the Afghan border, but he has no plans to put U.S. troops inside Pakistan against Pakistani wishes.

Since last month's capture of Saddam Hussein, American commanders in Afghanistan have expressed new optimism about finding bin Laden. Hilferty said the military ¡ª the United States has 11,000 men in the country ¡ª now believes it could seize him within months.

"We have a variety of intelligence and we're sure we're going to catch Osama bin Laden and Mullah Omar this year," Hilferty said. "We've learned lessons from Iraq and we're getting improved intelligence from the Afghan people."

Hilferty declined to comment on where he believed bin Laden or Mullah Omar, the former Taliban leader, might be hiding.

Earlier this week, the American commander of coalition forces in Afghanistan, Lt. Gen. David Barno, told the British Broadcasting Corp. that he expects bin Laden to be brought to justice by year's end.

American forces are pinning hopes for better intelligence from Afghans on new security teams setting up in provincial capitals across a swath of southern and eastern Afghanistan.

The security teams are supposed to open the way for millions of dollars in U.S. development aid and allow the Afghan government to regain control over lawless areas largely populated by ethnic Pashtuns, from which the Taliban drew their main support.

This month alone, about 70 people have died violently, including two international peacekeepers killed by suicide bombers in Kabul. The Taliban claimed responsibility for the bomb attacks.

The spring offensive touted by U.S. defense officials Wednesday would come just when the new security teams are supposed to be up and running, and warmer weather opens the high mountain passes.

Hilferty said he could not talk about future operations.

Pakistani officials said Thursday they would not allow American forces to use their territory for any new offensive. Cheema said he had not heard of the plan for a spring offensive.

U.S. forces used Pakistani bases and airspace during the campaign that led to the ouster in late 2001 of the Taliban regime, but Pakistan insisted it only provided logistical support.

"As a matter of fact they (the United States) have not contacted us for this purpose," Cheema told The Associated Press.

A Pakistani intelligence official said Pakistani authorities had no specific information about bin Laden's whereabouts.

Pakistan President Gen. Pervez Musharraf, a key U.S. ally, would face withering criticism from political opponents, particularly Islamic hard-liners, if American forces deploy inside Pakistan.

Abizaid called Musharraf a "strong ally" of the United States and said, "We'll help him where he wants help.

"The idea that we would work uncooperatively with the Pakistanis is not one that I'm entertaining," he said.

Despite periodic reports that the Taliban are making a comeback in Afghanistan, "I believe the Taliban is in deep trouble," both as a military and political force, Abizaid said.

Pakistan says it has arrested more than 500 al-Qaeda men over the past two years; many of them have been handed over to the United States.

Residents have reported seeing a small number of foreign personnel on such operations, but Pakistan denies it.

"We will not allow any foreign troops to conduct any operations in Pakistan," Pakistani army spokesman Gen. Shaukat Sultan said. "Whenever they (the United States) ask for such thing, we always decline."

In January, Pakistani forces raided a border village where al-Qaeda fighters were believed to be hiding. The interior minister said 18 suspected terrorists were captured.