Armitage in China for talks on Korea, Iraq
( 2004-01-30 08:48) (Chinadaily.com.cn/Agencies)
Deputy US Secretary of State Richard Armitage arrived in China for a visit that the US embassy said would focus on the year-long North Korean nuclear crisis and Iraq reconstruction.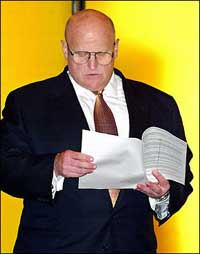 Armitage, who travelled from Japan, told reporters that the United States was "extraordinarily grateful" to China for its efforts to organize six-nation talks on the nuclear issue, and hoped there would be a new round next month.
"February is a possibility," he said in his Beijing hotel, adding later, "February is great month."
"The answer to this question lies in Pyongyang, not here," he said.
Armitage is due to hold talks with Chinese foreign ministry officials Friday before leaving for Mongolia early Saturday for the third and last leg of his trip, a US embassy spokeswoman said.
"They are going to talk about bilateral issues covering a broad range of mutual interests including North Korea and Iraq reconstruction," she said.
Beijing has been working closely with Washington to try to diffuse tensions over the North Korean nuclear plans.
China has been trying to convene a second round of six-nation talks on a 15-month crisis over North Korea's nuclear program, after a first round made little headway in Beijing in August.
The United States revealed last week it had made a rare direct call to North Korea in a bid to convene a second round of the six-party talks, which were expected in December but never happened.
North Korea offered recently to freeze its nuclear weapons drive in return for concessions, including an end to US sanctions and a resumption of energy aid.
Washington is holding out for a commitment from Pyongyang to scrap its nuclear program.