Hu's visit to forge closer Egyptian ties
( 2004-01-29 23:49) (China Daily)
President Hu Jintao arrived in Cairo yesterday for a three-day state visit to Egypt, one of China's closest partners in the Middle East.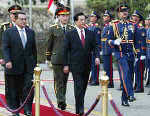 The visit to the Arab African country, Hu's first since becoming president last March, will focus on strengthening bilateral links, regional and international issues of mutual concern -- including the reconstruction of Iraq -- and the Mideast peace process, said Egyptian Foreign Minister Ahmed Maher on the eve of Hu's visit.
On bilateral economic relations, China's ambassador to Cairo Wu Sike said that China is ready to transfer to Egypt its technology in various fields, such as telecommunications.
China is planning to send a business delegation to Egypt to forge relations with local firms, according to Chinese embassy source. At this time, there are two Sino-Egyptian joint firms in Egypt's oil industry. An agreement on further co-operation in the oil and gas industry is "very likely" to be signed during Hu's visit, said the embassy source.
Zhai Jun, director of the Foreign Ministry's Department of West Asian and North African Affairs said that during Hu's visit, the two countries will sign documents on economic and technological co-operation, China's preferential loans to Egypt and investment memoranda on a special economic zone in the Gulf of Suez area.
Besides his talks with Egyptian counterpart Hosni Mubarak, Hu will meet Arab League Secretary General Amr Mussa. The announcement of the formation of a "Sino-Arab Co-operation Forum" is expected following this meeting.
"We definitely welcome the establishment of the forum, and Egypt has the intention to be one of its pivotal members," Egyptian ambassador to Beijing Ali El-Hefny told China Daily.
The ambassador said that Egypt-China strategic partnerships will always be directed towards the benefit of Africa and the Middle East as a whole.
"They (China and Egypt) have always based their foreign policies on the principles of peace, stability and co-operation... I believe that when the countries co-ordinate their orientations towards the Middle East and Africa, and support each other's visions concerning peace and development in these regions, the other parties will benefit," he said.
Egypt recognized the People's Republic of China in 1956 and is the first Arab and African nation to establish official diplomatic relations with it.
Mubarak, who was last in China in 2002, has visited Beijing eight times since becoming president 23 years ago.
Both countries signed a "strategic partnership" in 1999 during Mubarak's visit to Beijing. The agreement will be reviewed during Hu's talks taking into account changes in the region, according to ambassador Wu.
Hu arrived in Cairo after a four-day visit to France. He will then go on to Gabon and Algeria.
On Wednesday, Hu and French Prime Minister Jean-Pierre Raffarin witnessed in Paris the signing of nine agreements, including a US$700 million investment accord between car maker PSA Peugeot Citroen and its Chinese partner Dongfeng, a joint operating agreement between China's TCL and France's Thomson SA, a venture that would create the world's top TV manufacturer, and a deal between French glass maker Saint-Gobain's and China's Luoyang Float Glass Group.
There were also research deals, including an accord with French jet engine maker Snecma, a nuclear fusion project with France's Atomic Energy Commission and plans for joint work on disease epidemics with the Paris-based Pasteur Institute.