New measures to keep flu under control
( 2004-01-29 23:49) (China Daily)
The central government says it will undertake a series of concrete measures to help control and prevent the spread of the deadly bird flu, the State Council decided at a meeting presided by Premier Wen Jiabao yesterday in Beijing.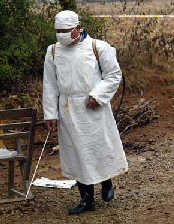 A medical worker sprays disinfectant to prevent the spread of the bird flu virus, near a chicken farm in Anlong, Southwest China's Guangxi Zhuang Autonomus Region, after discovering the country's first bird flu case. [newsphoto]

The areas affected by the flu must report new cases in a timely and accurate manner and cull sick poultry, sterilize affected regions and put infected people under quarantine to prevent the disease, also known as the H5N1 virus, from spreading.

Areas not hit by avian flu are urged to take strict precautionary measures, especially at large poultry farms and major poultry producing regions.

All levels of government are to allocate money to cover prevention and flu-control expense, and compensate people who suffer financial losses from the extermination of their poultry.

The nation will also step up scientific research on the virus and undertake the production and storage of related vaccines.

The quarantine on poultry imports will be strengthened and a crackdown on the smuggling of poultry will be undertaken.

In addition, raising awareness on the disease and how it can be prevented will be a priority.

The government has also said it will set up a system to monitor and respond to sudden animal disease outbreaks.

Ministry of Commerce officials said yesterday China has suspended the export of poultry and related products by Chinese farmers from areas hit by the avian flu and halted the import of fowl from eight affected countries.

The ministry issued an announcement on Wednesday along with the Ministry of Agriculture, General Administration of Customs and State Administration of Quality Supervision, Inspection and Quarantine, saying that the export of poultry products from China's bird flu-hit areas would be prohibited as of Wednesday.

Countries whose poultry imports will be banned as of Wednesday are the Republic of Korea (ROK), Japan, Viet Nam, Cambodia, Thailand, Laos, Pakistan and Indonesia, where deadly bird flu cases have been reported.

Chinese Foreign Ministry spokesperson Zhang Qiyue said yesterday that claims saying China is the source of the Southeast Asian bird flu outbreak are incorrect, unfounded, unscientific and, therefore, irresponsible.

Avian influenza is a disease which physicians have known about for 100 years, Zhang said. The sources and infection channels of the disease follow epidemiologic patterns and required scientific study to understand.

Officials from the World Health Organization (WHO) said earlier that it was too early to target any country as the source of disease, Zhang noted.

Taiwan has reported new cases of bird flu in ducks and has increased the number of fowl it plans to cull to around 50,000, officials were quoted by Reuters as saying yesterday.

Around 10,000 ducks will be destroyed after some were found to be infected with the H5N2 avian flu in the southwestern county of Yunlin, said Huang Kuo-ching, an official in charge of animal health inspection.

Taiwan first detected the disease -- a less virulent form of the H5N1 strain in mid-January.

Flu-hit region controls deadly virus

Slaughtering poultry and spraying disinfectant are some of the methods being used in Long'an County, located in South China's Guangxi Zhuang Autonomous Region, to fight the spread of bird flu.

In the town of Dingdang, about 150 kilometres from the region's capital Nanning,there has been no sign of poultry within the town's five-kilometre radius quarantine zone two days after the discovery of a duck suspected of carrying the deadly virus H5N1.

As a precautionary measure, people are not allowed to enter the radius.

Officers holding plastic jugs of disinfectant with long spray nozzles were pulling over cars on roads leaving the town.

They have been informing drivers of the need for good sanitation and doused vehicle wheels and undersides with disinfectant.

"You cannot see any poultry in the town and in the county, the price of poultry is crashing," said a witness.

In Long'an, poultry is now sold at half price at 14 yuan (US$1.70) per kilogram. But consumers are still reticent to buy.

Health authorities in Guangxi have taken emergency measures to prevent the epidemic from spreading following reports of bird flu in Dingdang.

Twenty-three people who had close contact with bird flu-infected ducks have been quarantined and are under observation.

Meanwhile, Guangxi has intensified efforts to make sure that poultry in other parts of the region remains free of the disease, especially in border and coastal regions and areas along highways and railways, as well as places with developed poultry industries.

The regional government has also required officials to disinfect the site and ban the transport of all poultry and related products from infected areas.

Meanwhile, in Wuxue, a city in Central China's Hubei Province, poultry farmers were warned against the possible spread of the disease.

All birds within three kilometres of Zhanglingshang Village, where the suspected cases were reported, have been killed and all poultry within five kilometres of the village have been inoculated.

Hubei provincial health authorities announced late Wednesday that farm owner Chen Lianfu, whose chicken farm was reported to have suspected bird flu cases, and his wife were not infected with the disease and health authorities ceased monitoring 11 people who had close contact with the couple.

Suspected bird flu cases were also reported in the city of Wugang in Hunan, a province neighboring Hubei and Guangxi.

Local health and disease control departments have taken emergency measures to control the epidemic and prevent the disease from infecting people.

So far, no H5N1 virus infections in human beings have been found in China.