Blair basks in victory after judge's vindication
( 2004-01-29 08:26) (Agencies)
British Prime Minister Tony Blair basks in victory on Thursday with a major domestic policy speech after his surprising, near-total vindication in an inquiry into an Iraq weapons scientist's suicide.
Senior judge Lord Hutton absolved Blair's government of any serious wrongdoing in the death of David Kelly and said an allegation that the government deliberately doctored intelligence to justify war in Iraq was unfounded and wrong.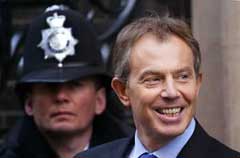 Britain's Prime Minister Tony Blair(R) leaves Downing Street for the House of Commons in London, January 28, 2004. [Reuters]

Kelly killed himself last June after being named as the source for a report on BBC radio that Blair's government "sexed up" intelligence to justify war in Iraq.

The scandal haunted Blair for months, exposing him to damaging accusations that his government was obsessed with spin and had treated Kelly cruelly. He and other top officials testified before Hutton's lengthy inquiry.

But delivering his findings on Wednesday, Hutton sided with the government on all major questions, saying leaders believed the intelligence they published on Iraq was true, and had no "underhand strategy" to expose Kelly.

Thursday's speech is expected to be an effort by Blair to retake the initiative on domestic policy, after days of political turmoil unprecedented in his six-year rule.

At the beginning of the week Blair faced a mutiny from his own party in a parliamentary vote on education policy on the eve of the potentially explosive Hutton report. Analysts spoke of writing Blair's political obituary.

Instead, Blair squeaked through the education vote, and the next day the same analysts were stunned by the extent to which Hutton vindicated him in the Kelly affair. In parliament, Blair declared his case won and called on his critics to apologize.

GLOATING

"If Blair had written the Hutton report himself, I'm sure it would have looked very much like this," pundit Simon Hoggart wrote on the Guardian newspaper's Web site.

"Tony Blair doesn't 'do' gloating...This time, however, he was gloating. He was jumping up and down on the graves of his enemies and relishing every single moment."

Even Blair's hapless Defense Secretary Geoff Hoon -- all but universally written off months ago as the inevitable scapegoat for Kelly's death -- escaped serious criticism.

Hutton saved most of his ire for the BBC, damning the broadcaster for airing its story and standing by it without adequately checking whether it was true. The chairman of the BBC's board of governors, Gavyn Davies, responded by quitting.

Blair's main rightwing parliamentary opponents, the Conservatives, were clearly wrongfooted by Hutton. They had gone on the attack over the Kelly affair in the past few weeks, only for the judge to leave them with virtually no ammunition.

Blair can be expected to revel in victory over the next few days. But hard questions will still dog him.

Although Hutton ruled that Blair believed intelligence reports that Iraq had banned weapons, the judge explicitly avoided examining the question of whether that intelligence was accurate. No such weapons have been found.

And although Blair survived his education fight in parliament -- billed as a make-or-break moment that could bring him down -- he won by a tiny margin of only five votes in a house where his party has a majority of more than 160.