Blair exonerated in suicide report
( 2004-01-28 11:20) (Agencies)
Britain's Sun tabloid reported on Wednesday it had been leaked a judge's report into an Iraq weapons expert's suicide that appeared to exonerate Prime Minister Tony Blair.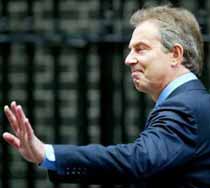 If true, the conclusions would provide some respite for Blair who narrowly survived a knife-edge vote in parliament on Tuesday night over his higher education policy.
The daily said the BBC, which had asserted in a report that Blair's government "sexed up" intelligence about Iraqi weapons to make its case for war last year, was accused of being "at fault" over a story that should have been checked more closely.
"As far as Tony Blair is concerned, he is cleared completely of any dishonorable conduct in the naming strategy for Dr David Kelly," Sun political editor Trevor Kavanagh said.
The Sun, a leading newspaper in Rupert Murdoch's global media empire, has consistently accused the BBC of being the prime culprit in the events leading to the death of government scientist Kelly, outed as the source for the bombshell report.
The Sun, quoting what it called a "trusted source," said Blair's Defense Secretary Geoff Hoon and former government media chief Alastair Campbell had also been cleared by Hutton.
It said Hutton had concluded there was no "dishonorable, underhand or duplicitous strategy" by the government to make Kelly's name publicly known.
Kelly slit his wrist after being exposed as the source behind the BBC report that claimed Blair had exaggerated the threat from Iraq.
INTELLIGENCE SERVICES
Blair's Downing Street office "categorically denied" leaking the judge's report. Blair, among other key protagonists, received a copy of it earlier on Tuesday to pore over before its official release after midday on Wednesday.
His six-year-old government has been frequently criticized for putting favorable spin on stories using favored media outlets before they are published.
Adam Boulton, political correspondent for Sky TV which is also in the Murdoch empire, said of the Sun story: "It is worth an awful lot to the government as a pre-emptive strike."
BBC correspondent Nick Hyam, who covered the Hutton inquiry from the start, hinted the same.
"This is exactly what Lord Hutton didn't want to happen, somebody getting hold of all or some of his conclusions and putting their own spin on it before he had a chance to do it himself."
The Sun's Kavanagh said, however, he had received details of the report's conclusion from a good source and insisted "there was no axe to grind."
But Liam Fox, chairman of the opposition Conservative Party, said: "We must find out who's behind it (the leak) because it has all the fingerprints of a government that's willing to say or do anything to save its own skin."
At the start of what has been dubbed Blair's "24 hours from hell," the House of Commons voted by 316 to 311 on Tuesday in favor of a bill to increase fees for university students.
Blair commands the biggest parliamentary majority in recent British history, controlling 408 of the 659 seats in the House of Commons. Losing a vote should have been inconceivable.
But since waging a war in Iraq that most Britons had opposed, and with no banned weapons yet found, Blair has lost the unquestioning support he once enjoyed.
"He is a dead man walking and he should know it," Conservative legislator Nigel Evans said.
Hutton's inquiry raised fundamental questions -- about how the government handled intelligence in the run-up to war and whether it exposed Kelly to public humiliation.
After Kelly's death, Blair denied authorizing the leaking of the scientist's name. But a top civil servant told Hutton that Blair led a meeting where officials decided to publicly clarify the government's position, a move that led to Kelly's exposure.