Bird flu virus kills ducks in Guangxi
( 2004-01-28 08:47) (China Daily)
The authorities said yesterday several ducks at a farm in the southern Guangxi Zhuang Autonomous Region were killed by bird flu, the first case of the fast spreading disease to be found on the Chinese mainland.
No infections in human beings have been found so far.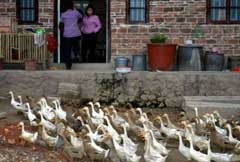 A Chinese family breeds ducks at home in Yangshuo, Guangxi, southwest China, January 27, 2004. [China Photo]

Shortly after the report of the dead ducks at a farm in Dingdang Town, Long'an County on Friday, the local government culled 14,000 fowl in a ring 3 kilometres around the farm. The government also moved to quarantine all poultry within 5 kilometres of the farm.

The national bird flu reference laboratory confirmed the ducks were killed by the deadly H5N1 strain of the bird flu virus.

A separate report on Monday said other dead birds were found in a chicken farm in the city of Wuxue in Central China's Hubei Province and in a duck farm in the city of Wugang in neighbouring Hunan Province.

Local veterinary departments suspect the deadly H5N1 strain of the bird flu virus killed the birds. Local governments moved to slaughter or quarantine birds to prevent a spread, and sent samples to related authorities.

No people have been found infected so far and the disease has remained under control, governments said.

Officials were probing into the source of the virus. Measures have been adopted to strictly control exports from bird flu-affected areas.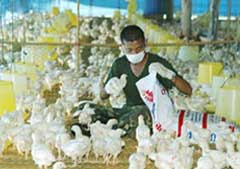 A Thai soldier collects chicks to be destroyed at a farm in Kanchanaburi province, 150 km ( 93 miles ) west of Bangkok, January 27, 2004. [Reuters]
The Ministry of Agriculture, at the order of the State Council, launched nationwide prevention and control efforts. The ministry plans to release epidemic surveillance information. Ministry spokesman Jia Youling said the ministry has pledged to strengthen monitoring and increase international co-operation to prevent further spread.
Officials from the Ministry of Agriculture and the Ministry of Health have informed the UN Food and Agricultural Organization and the World Health Organization of the cases, and said they plan to work together to prevent and control the rapidly moving virus.