China confirms 1st case of bird flu, no human ill
( 2004-01-27 20:14) (chinadaily.com.cn)
China has become the latest country in Asia to report the deadly infections of bird flu, after the state-level laboratory confirmed on Tuesday that some poultry had died from the H5N1 strain in its southwestern province of Guangxi, bordering Viet Nam.
And, some chickens and ducks raised in South China's Hunan Province and Central China's Hubei Province also died over the weekend, and China's Central Television Station (CCTV) reported Tuesday that they were also suspected of dying from bird flu.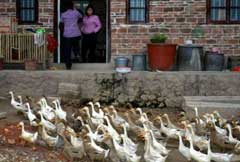 A Chinese family breeds ducks at home in Yangshuo, Guangxi, southwest China, January 27, 2004. [China Photo]

To date,no infections in human beings have been found, CCTV said.

On January 23, some ducks raised by a local farmer in Dingdang Town, Long'an County, Guangxi, fainted and later died. Initial testing by local medical department said the poultry possibly died from the bird flu, and Guangxi provincial authorities immediately sent the samples to a state-level bird flu laboratory. From January 23, Long'an County government ordered all 14,000 chickens and ducks within three kilometers of Dingdang Town were killed, and all poultry within five kilometers were quarantined.

State laboratories are now testing samples sent by Hunan's Wugang City, and Hubei's Wuxue City. Chickens and ducks raised there were also killed, but CCTV did not report the exact number of poultry slaughtered. Local veterinary departments preliminarily diagnosed the cause of the deaths as suspect deadly H5N1 strain of the bird flu virus.

China's Ministry of Agriculture and Ministry of Health are now on high alert to investigate any new occurrences of the H5N1 disease, and prevent the virus from expanding to other areas.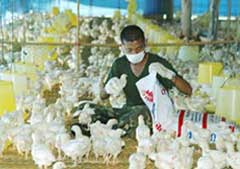 A Thai soldier collects chicks to be destroyed at a farm in Kanchanaburi province, 150 km ( 93 miles ) west of Bangkok, January 27, 2004. [Reuters]

The State Council has ordered all poultry products in the infected areas banned from being exported to other countries and regions, CCTV reported.

Ministry of Agriculture and Ministry of Health have reported China's latest bird flu situation to the World Health Organization and the International Food and Agriculture Organization. And the Chinese government said that it welcomes cooperation with relevant world organizations to prevent and cure the disease.

Ministry of Agriculture will timely inform the press any information concerning the disease, CCTV said.

Meanwhile, the number of human deaths in Asia from the disease has risen to 8, with Viet Nam reporting 6 and Thailand reporting 2, the deadliest outbreak since 1997 in Hong Kong, which killed 6.

Countries reporting the virus in Asia have included Viet Nam, Japan, South Korea, Thailand, Indonesia, Laos, Cambodia, Pakistan and China. Up to 5 million poultry have been killed.

The World Health Organization said the search for a vaccine had been set back because the virus has mutated. A bird flu strain detected in Hong Kong in 1997 no longer can be used as the key to producing a vaccine, experts said.