Bird flu kills second child in Thailand
( 2004-01-27 14:20) (Agencies)
Thailand confirmed its first two fatalities from bird flu, raising the number of deaths in Asia from the disease to eight ! the deadliest outbreak since 1997.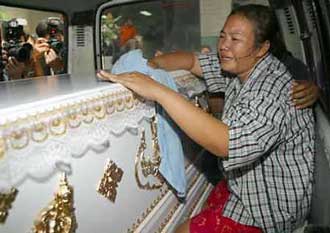 Jongrak Boonmanut, mother of Captain Boonmanut, the six-year-old boy who died from bird flu, cries next to his coffin at Siriraj Hospital in Bangkok January 26, 2004. [Reuters]

Laos become the latest country to report infections after a sample sent to a laboratory in Viet Nam tested positive for the disease, Singkham Phounvisay, director of the country's Livestock Department, said Tuesday. The tests were conducted after hundreds of chickens died on farms, mostly around the Lao capital of Vientiane.

Pakistan reported its first cases on Monday, with a government official saying that 1.5 million chickens died from a strain of the virus different than the one blamed for the human fatalities. Bird flu has triggered mass slaughter of chickens across Asia.

On Monday, Thailand confirmed the death of a 6-year-old boy who fell ill after playing with chickens in his village. On Tuesday, hospital officials reported a second death ! also a 6-year-old boy.

Kenchai Nenjan, from northern Sukhothai province, died Tuesday morning of the disease, a hospital official said on condition of anonymity. The other 6-year-old died Sunday night in central Kanchanaburi province.

The World Health Organization said the search for a vaccine had been set back because the virus has mutated. A bird flu strain detected in Hong Kong in 1997 no longer can be used as the key to producing a vaccine, the WHO said.

The Hong Kong outbreak marked the first time scientists documented that bird flu could be caught by humans. Six people died in the 1997 outbreak, the deadliest known previous outbreak.

Scientists believe people get the disease through contact with sick birds. Although there has been no evidence of human-to-human transmission, health officials are concerned the disease might mutate further and link with regular influenza to create a disease that could trigger the next human flu pandemic.

"This is now spreading too quickly for anybody to ignore it," said WHO spokesman Peter Cordingley in Manila, Philippines.

Officials in Bangkok, meanwhile, said they were investigating whether the virus might be carried by migratory birds.

Last week one farmer, Chavalit Pholchamroon, told The Associated Press that chickens owned by a friend in the province of Chachoengsao started dropping dead after coming into close contact with storks that he said migrate from Siberia every year.

The birds, which arrived in November, feed in rice fields and wetlands, some located near chicken farms.

Captan Boonmanut, a 6-year-old Thai boy, became infected in Kanchanaburi province and died Sunday night in a Bangkok hospital.

The boy's father, a farmer, accused the Thai government of covering up. Thai officials confirmed Friday that the disease had struck, after weeks of denials.

"The government knew, so why didn't they tell the public so that we could protect ourselves?" Chamnan Boonmanut said in an interview with The Associated Press.

Four other people suspected of having bird flu died in Sukhothai province, the Public Health Ministry said Monday. Officials were also trying to determine if bird flu killed a 56-year-old man who bred fighting cocks.

Asian governments have killed chickens in a desperate bid to contain the disease, with Thailand slaughtering about 10 million chickens and Viet Nam more than 3 million.

The outbreak has devastated Thailand's chicken export industry ! the world's fourth-largest ! which shipped about 500,000 tons of chicken worth $1.3 billion in 2003. Thailand's biggest markets, Japan and the European Union, have banned its poultry products.

Dr. Prasert Phongcharoen, a WHO adviser and viral disease expert, urged caution in the disposal of chicken carcasses. If infected chickens are thrown in rivers, "the virus could spread to open pig farms and this could result in transmission from pigs to humans," he said.

The virus would pass more easily from pigs to humans because they are genetically closer, he said.

So far, nine countries or regions have reported some strain of bird flu ! Cambodia, Indonesia, Japan, Pakistan, South Korea, Taiwan, Thailand, Viet Nam and Laos.

Pakistan's commissioner for livestock husbandry, Rafaqat Hussain Raja, said Monday that 1.5 million chickens had succumbed to a strain of the virus.

However, an industry official said the disease had killed up to 3.5 million birds.

An official at Pakistan's WHO office, Faizullah Kakar, said the agency had not confirmed a bird flu outbreak in the country.

The reported Pakistani strain differs from the H5N1 strain blamed for the human fatalities this year, but similar strains have been known to infect humans, WHO's Web site said.