Cairo building collapse kills five
( 2004-01-27 14:05) (Agencies)
A 12-story building that had drawn police attention for alleged illegal renovations collapsed in a Cairo suburb during a fire Monday night, killing at least five people, including three firefighters. At least 10 people remained trapped in the rubble.
Rescuers pulled a fire brigade officer alive from the rubble, his face covered with dust. He was taken to an ambulance amid cries of "Allahu Akbar," or God is Great, from onlookers.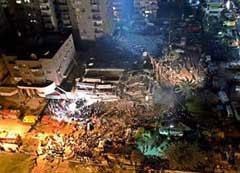 A view of a building which collapsed in Cairo, January 27, 2004 with rescue operation going on. [Reuters]

Rescue crews worked into Tuesday trying to free those trapped in the building, police said. Most were police officers and firefighters who had been dispatched to put out the blaze, police said.

The bodies of three firefighters and a private citizen were removed from the rubble, according to Egypt's semiofficial Middle East News Agency. Eleven people remained trapped, it reported Tuesday morning.

Thirty three people were hospitalized, but there was no immediate word on their conditions.

The owner of the building had illegally added four floors 12 years ago and ignored an order to tear them down, police said. Tenants had also complained to police six days ago about renovations in the store where the fire began; they feared the work would damage the building's foundations.

The officials first said the fire broke out at an Egyptian fast-food restaurant on the ground floor, but later reported it began at the adjacent store.

A police officer at the scene, briefing reporters afterward, also said 16 people were trapped. The unnamed officer identified the civilians as workers in the store where the fire started.

But the Middle East News Agency quoted Cairo security chief Nabil el-Ezzabi as saying eight people, including three policemen, remained trapped about three hours after the collapse. It was not clear if the discrepancy was because people had been pulled out of the rubble.

The building, built in 1981, was in Nasr City, an eastern suburb of the Egyptian capital near the airport. The area is home to many high-rise residential buildings and shopping areas.

The structure collapsed accordion-style into a pile of rubble about two stories high. Several satellite dishes rested intact on the roof, and a panda toy, slippers, bags and a brass pot were scattered in the debris.

Police sealed off the area and evacuated two buildings that were damaged by the collapse, while firefighters and policemen worked under floodlights to rescue their trapped colleagues.

Rescuers cleared rubble by hand in search of survivors for several hours and were joined by bulldozers early Tuesday.

Building collapses are common in Egypt and are often caused by shoddy construction or the unauthorized building of extra stories. The last such incident was May 4, when a seven-story apartment building collapsed in Cairo, killing at least seven people.