UK's Blair sails head on into political storm
( 2004-01-27 11:47) (Agencies)
British Prime Minister Tony Blair steers into a political storm on Tuesday -- risking his first major policy defeat in parliament the night before an explosive report into an Iraq weapons scientist's suicide.
At worst, defeat of his education reforms in the House of Commons and harsh criticism in senior judge Lord Hutton's report on the death of scientist David Kelly could leave Blair wounded, perhaps even bring him down.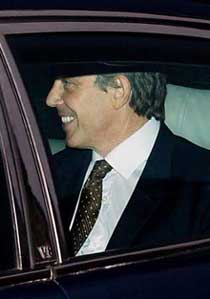 Britain's Prime Minister Tony Blair leaves Downing Street, London, en route to the House of Commons, January, 26, 2004. Blair pulled out all the stops to avert a damaging parliamentary defeat over education reform at the start of the most perilous week of his premiership. [Reuters]

But if he sails through both challenges, he could emerge stronger than ever, decisively seeing off the greatest threats to his six-year rule.

Financial markets are jittery, but so far there is no sign of investors daring to bet heavily against the resilient Blair.

Education Secretary Charles Clarke, who will lead Blair's troops in parliament, said his boss was in an upbeat mood.

"I've seen him a number of times today, and he's looking very positive and very clear," Clarke told Sky Television late on Monday. "Because he knows the arguments on this bill are very clear. And he knows that his own integrity...which will be reported on later this week by Lord Hutton, is unimpeachable."

LEFT-RIGHT DIVIDE

The first hurdle will be education reform, a key part of Blair's domestic policy agenda that has taken on outsized significance among a growing camp of die-hard opponents within Blair's own Labour Party.

The party has one of the strongest parliamentary majorities in British history, controlling 408 of the 659 seats in the House of Commons, and the prospect Blair might actually lose a vote there has until recently been all but inconceivable.

But his plan to let universities charge fees treads on a fundamental left-right divide that has split the historically socialist party under centrist Blair -- a wound that deepened since last year's war in Iraq which the Left bitterly opposed.

Some rebels, led by figures such as former minister Clare Short who resigned from the cabinet over Iraq, have made little secret they hope to use the issue to drive Blair from power. Others say free higher education is a bedrock of party policy.

British newspapers said that by late Monday Blair had still to win over at least 20 Labour MPs to ensure victory. Despite arm-twisting in parliament's back corridors -- Blair himself met rebels until late in the evening -- government allies say Tuesday night's vote is still too close to call.

The next day, Hutton will unveil his long-awaited report into the death of scientist David Kelly.

Kelly slashed his wrist last June after being named as the source for a news story that said the government exaggerated intelligence about Iraqi weapons to make its case for war.

Hearings into the affair have raised troubling questions -- both about how the government handled intelligence on Iraq and about whether it exposed Kelly to public humiliation in a bid to shield top Blair allies from criticism.

After Kelly's death, Blair denied that he authorized government officials to leak the scientist's name. But a top civil servant testified to Hutton that Blair led the meeting where officials decided to publicly clarify the government's position -- a move that led to Kelly's exposure.

Blair's opponents say that means he lied -- and he should resign. Blair says he stands by "the totality" of his remarks after Kelly died, but will answer his critics in full only after Hutton's report is published.