Bush under pressure over Iraqi elections, WMD
( 2004-01-27 11:08) (Agencies)
U.S. President George W. Bush was under pressure on two fronts on Monday as calls grew in Iraq for early elections while at home his pre-war assertion that Iraq had weapons of mass destruction faced mounting criticism.
U.N. Secretary-General Kofi Annan was expected to announce imminently whether he will send a team to Iraq to explore the feasibility of early elections to replace an unpopular U.S. plan to choose a government through regional caucuses. U.N. security experts are already in Iraq assessing the situation.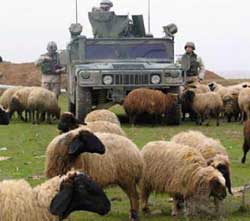 U.S. Army troops are surrounded by a flock of sheep while keeping watch over a rural area on the outskirts of the northern Iraq city of Mosul January 26, 2004. [Reuters]

Violence continued unabated in Iraq where guerrillas fired a rocket at the Baghdad compound where the U.S.-led administration is based, but there were no casualties.

The White House pledged to review the intelligence that was used to justify the war that toppled Saddam Hussein last April after the top U.S. weapons hunter concluded Iraq had no stockpiles of chemical or biological weapons.

In an embarrassment for Bush, former chief U.S. weapons hunter David Kay concluded Iraq did not have stockpiles of banned weapons as Bush had said in declaring that the country was a grave and gathering danger.

Democrats have accused Bush of using faulty intelligence -- if not twisting the intelligence -- on the extent of Iraq's weapons program as a pretext for war.

White House spokesman Scott McClellan said the CIA was doing some work on reviewing the intelligence already but the first step was for the team of experts looking for evidence inside Iraq, the Iraq Survey Group, to complete its work.

Regardless of what weapons searchers discover or not in Iraq, the Bush administration stands by its decision to go to war against Iraq, McClellan told reporters.

"The decision that we made was the right decision and what we know today only reconfirms that it was the right decision."

In Rome, U.S. Vice President Dick Cheney also defended the decision to go to war.

"Today the former dictator sits in captivity; he can no longer harbor and support terrorists, and his long efforts to acquire weapons of mass destruction are at an end," Cheney told Italian political and business leaders.

In a speech in the Italian Senate, he made no mention of earlier U.S. charges Iraq had banned weapons and later, did not answer when a reporter asked if U.S. intelligence problems were behind the administration's argument that Iraq had unconventional weapons stockpiles.

The row comes at a difficult time for Bush's close ally Tony Blair, also under pressure over his decision to go to war. On Wednesday he will hear the conclusions of an inquiry into the suicide of a British expert on Iraq's weapons that may also shed light on the intelligence used to justify the war.

SAFE ENOUGH FOR ELECTIONS?

After a weekend of violence that left six U.S. soldiers dead, Iraq's interior minister said on Monday security in the country may be too precarious to hold early elections.

Loud explosions echoed across central Baghdad on Monday evening when guerrillas fired a rocket at the compound housing the U.S.-led administration, though there were no casualties.

The compound on the west bank of the Tigris river has come under rocket and mortar attack several times in recent months.

Annan is due to announce within days whether he will send a team to Iraq to explore the feasibility of early elections.

Under the current U.S.-backed plan to hand over sovereignty, regional caucuses would select a transitional Iraqi assembly by May, and the assembly would choose an interim government to take over on June 30. Elections would follow in 2005.

But many Iraqis have backed a demand by Ayatollah Ali al-Sistani, the country's most revered Shi'ite cleric, for direct elections to be held before sovereignty is transferred.

Some Iraqi officials, however, say the country is not yet ready to hold elections given the security situation.

"We ask for this matter to be postponed, even if it is for a short time, until all the political and security preparations can ensure that elections can run in a free and stable manner," Interior Minister Nouri Badran, a secular Shi'ite, told a news conference when asked whether Iraq could hold early elections.

Bush said on Monday a top al Qaeda operative who helped step up attacks against U.S. troops in Iraq was captured last week.

"There's one less enemy we need to worry about with the capture of Hassan Ghul," Bush said in a speech in Arkansas.

Weekend bomb attacks killed six U.S. soldiers and four Iraqis and gunmen attacked Iraqi police in Ramadi on Sunday, killing three officers. A fourth died of his wounds on Monday and another Iraqi was killed by a roadside bomb in Baghdad.