Opportunity lands successfully on Mars
( 2004-01-25 13:57) (Agencies)
NASA's Opportunity rover landed on Mars at 0505 GMT Sunday (12:05 am ET)., arriving at the Red Planet exactly three weeks after its identical twin set down, prompting whoops and cheers of delight from mission scientists who gathered to monitor the touchdown.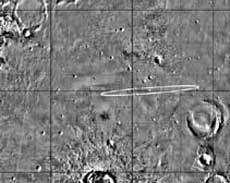 This white oval shows Opportunity's expected landing site. [NASA]

"We're on Mars everybody," Rob Manning, manager of the entry, descent and landing portion of the Mars mission, shouted as fellow scientists at NASA's Jet Propulsion Laboratory burst into wild applause.

The unmanned, six-wheeled rover landed at 9:05 p.m. PST in Meridiani Planum, NASA said. The smooth, flat plain lies 6,600 miles and halfway around the planet from where its twin, Spirit, set down on Jan. 3.

Together, the twin rovers make up a single $820 million mission to determine if Mars ever was a wetter world capable of sustaining life. NASA launched Spirit on June 10. Opportunity followed on July 7.

Since arriving, Spirit has developed serious problems, cutting off what had been a steady flow of pictures and other scientific data.

Shortly before entering the martian atmosphere, Opportunity jettisoned its cruise stage, shedding the disc-shaped structure that had provided power, propulsion and communications capabilities during its seven-month trip through space.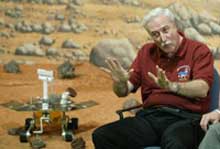 Sean O'Keefe, NASA administrator, addresses the risks of the space program, as he discusses the upcoming landing of the Mars Rover Opportunity during a news conference,Jan. 24, 2004. [AP]

In the minutes before cruise separation, mission scientists at NASA's Jet Propulsion Laboratory broke open containers of "good luck peanuts" they had brought for the occasion, and Gov. Arnold Schwarzenegger and his wife, Maria Shriver, arrived to watch the drama unfold. Also on hand was former U.S. Vice President Al Gore.

Scientists laughed and joked nervously in the final minutes heading up to landing.

As they prepared for Opportunity's landing, scientists said earlier Saturday they were closing in on the root of the problem that led the Spirit rover to begin spewing gibberish and beeps instead of science and engineering data earlier this week.

They brought stability to the six-wheeled vehicle by disabling its flash memory, which is similar to the memory digital cameras use to store pictures, said Orlando Figueroa, director of NASA's Mars exploration program.

"We made good progress overnight," project manager Pete Theisinger said during a news conference at JPL. "The rover has been upgraded from critical to serious."

Spirit had resumed transmitting data Friday, but only in limited batches. The malfunction, which appeared Wednesday, may prevent the rover from taking another drive on Mars for as long as three weeks, Theisinger said.

As Spirit shut down systems and "slept" 124 million miles from Earth, Opportunity remained on track to make a bull's-eye landing at 9:05 p.m. in Meridiani Planum, navigation team chief Louis D'Amario said.

Opportunity, like Spirit, had to execute a choreographed sequence of events to ensure its safe arrival on Mars. The only difference: Opportunity was to open its parachute 4,500 feet higher above Mars than Spirit did to compensate for the higher elevation of its landing site.

Opportunity was targeted to land 6,600 miles ¡ª or halfway around Mars ¡ª from Spirit.

Despite its woes, scientists said there is still a chance Spirit can take up where it left off when it began malfunctioning. JPL Director Charles Elachi said other NASA spacecraft, including Voyager, Magellan and Galileo, have recovered from even graver problems.

"I am completely confident, without any hesitation, that I think we will get that rover back to full operation," Elachi said.

The rover developed problems after working nearly flawlessly for days.

Mission members were able to stop the rover from rebooting its computer as it had done roughly 130 times and place it in so-called "cripple" mode to bypass its troubled flash memory.

They also succeeded in coaxing the robot to sleep after it stayed up two nights in a row when it should have been turned off to conserve power.

The root cause of Spirit's problems remained elusive. NASA's inability to reproduce the problem in laboratory tests of its software on Earth suggests that something is awry with the rover's hardware, Theisinger said.

The problem may prevent Spirit from taking another drive on Mars for as long as three weeks.

During its first weeks on Mars, Spirit took thousands of pictures and began its work prospecting the soil and rocks around its landing site. The science work stopped on Wednesday.

NASA sent Spirit to Gusev Crater, a broad depression believed to once have contained a lake. It launched Opportunity toward Meridiani Planum, a flat, smooth region relatively free of the reddish dust that cloaks Gusev. Scientists believe Meridiani abounds in a mineral called gray hematite, which typically forms in marine or volcanic environments rich in water.

Not since the 1976 landing of the twin Viking landers has NASA had two working spacecraft on the surface of Mars.

NASA launched two rovers to double its chances of successfully landing on Mars. Just one in three international efforts to land on the Red Planet has succeeded.

The list of failures may include the British lander Beagle 2, which has not been heard from since attempting to set down in December.

Three other spacecraft, two from NASA and one from the European Space Agency, remain in orbit around Mars.