Iraqi blasts kill five US soldiers
( 2004-01-25 09:33) (Agencies)
Iraqi insurgents struck Saturday in the volatile Sunni Triangle west of Baghdad, killing five U.S. soldiers in separate bombings and narrowly missing an American convoy with a blast that killed four Iraqis and wounded about 40 others north of the capital.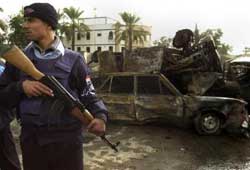 An Iraqi policeman guards the area where a truck bomb exploded in Samarra, Iraq as a U.S. patrol passed by Saturday Jan. 24, 2004. [AP]

The bloody attacks occurred as U.N. security experts began to study the possible return of U.N. international staff to play a key role in Iraq's transformation to democracy. The thud of distant explosions rumbled across the capital late Saturday, heightening the sense of insecurity that still prevails nine months after the collapse of Saddam Hussein's regime.

In Khaldiyah, some 70 miles west of Baghdad, three U.S. soldiers were killed and six more were wounded when a vehicle, possibly driven by a suicide bomber, exploded at a U.S. checkpoint near a bridge across the Euphrates river, the U.S. command said.

Iraqi witnesses said a four-wheel-drive vehicle drove up to the checkpoint and exploded in front of a U.S. Army Humvee trying to block it. At least eight Iraqis ! six of them women ! were injured, according to Dr. Ahmed Nasrat Jabouri of the provincial hospital in nearby Ramadi.

"It shook the whole area," Emad Ghareb Hamid said of the blast. U.S. troops sealed off the area while ambulances and helicopters evacuated the casualties.

Earlier Saturday, two other U.S. soldiers were killed by a roadside bomb that struck their four-vehicle convoy north of Fallujah, a Sunni Muslim city near Khaldiyah in a center of anti-American resistance.

The latest deaths brought to 512 the number of U.S. service members who have died since the United States and its allies launched the Iraq war March 20. Most of the deaths have occurred since U.S. President Bush declared an end to active combat May 1.

A third attack took place when a truck bomb exploded Saturday morning near government buildings in Samarra, about 70 miles north of Baghdad, barely missing a U.S. military police patrol as it turned into a police station compound.

The blast killed four Iraqi civilians and wounded about 40 people, including seven American soldiers who were cut by flying glass inside one of the buildings, Capt. Jennifer Knight of the 720th Military Police Battalion said. The Americans' wounds were not life-threatening.

The explosion set fire to a half-dozen cars parked near the buildings, which included a police station and municipal offices, and gouged a large crater in the street. The burned-out hulks of the cars ! some reduced to mounds of twisted metal ! smoldered in the damp, chilly air hours after the blast.

Resistance to the American occupation has persisted in the Sunni heartland north and west of Baghdad, despite the Dec. 13 capture of Saddam Hussein.

In Baghdad, meanwhile, at least one sniper firing from a building wounded a U.S. soldier on patrol in the upscale Mansour neighborhood west of the Tigris river, Maj. Kevin West said.

A bridge across the Tigris leading to the coalition headquarters was closed by U.S. troops for two hours Saturday. Witnesses said they were searching for a bomb, but this could not be independently confirmed.

The incidents underscored the precarious security situation throughout much of Iraq as U.N. Secretary-General Kofi Annan weighs a U.S. and Iraqi request to play an increased role in the political transformation of the country.

A two-member U.N. security team arrived Friday in Baghdad to study the possible return of international staffers. They were withdrawn from Iraq in October after two attacks on the U.N. headquarters, including the devastating truck bombing in August that killed 22 people, including top U.N. envoy Sergio Vieira de Mello.

A separate security team would be needed if Annan decides to send experts to Iraq to determine whether early elections for a transitional government are feasible.

Meanwhile, Iraq's foreign minister said Saturday he expects the United Nations to accept a U.S. request to study prospects for elections before America transfers power to the Iraqis. He hopes recommendations can be ready quickly ! within two to three weeks.

If there is a pre-handover legislative election, Hoshyar Zebari told The Associated Press it would require a census and could delay giving power back to Iraqis by a month or two.

He said the Iraqi Governing Council is committed to the terms of the agreement it signed with the U.S.-led coalition calling for a transfer of power by July 1.

The country's leading Shiite Muslim cleric, Grand Ayatollah Ali al-Husseini al-Sistani, has demanded direct elections for a new Iraqi legislature rather than a U.S. formula plan for selecting lawmakers in 18 regional caucuses.

The United States says early elections are impossible because of the security situation and the lack of electoral rolls.

Iraq's Shiite Muslim community, estimated to form 60 percent of country's 25 million people, fears that caucuses will be engineered to deny them the political power they feel is their right due to their numbers. Shiites were suppressed by the minority Sunni population under successive governments, including Saddam's.

But the United States cannot afford to alienate the Shiite community, which has generally refrained from attacks on coalition forces. On Friday, the Bush administration said it was sticking by the July 1 deadline for ending the U.S. occupation but was open to discussion to the method for transferring power.

Under the U.S. power-transfer plan, Iraqis also will vote early next year to chose delegates who will draft a constitution. The draft will later be adopted in a national referendum. A third and final 2005 vote is to elect a new parliament.