Annan guardedly OKs U.N. team in Iraq
( 2004-01-20 22:26) (Agencies)
U.N. Secretary-General Kofi Annan cautiously supported an American and Iraqi request that a U.N team study whether Iraq could have quick, direct elections for a transitional government.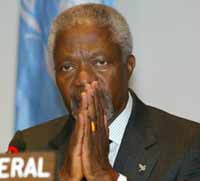 United Nations Secretary-General Kofi Annan listens during a news conference at U.N. headquarters Monday, Jan. 19, 2004.[AP Photo]

But Annan said he first needed assurance the team will be safe, especially after Sunday's truck bombing outside the U.S.-led coalition's headquarters compound. Thirty-one people, mostly Iraqis, were killed and more than 120 were wounded, the Iraqi Health Ministry said.

American and Iraqi officials asked Annan on Monday to send a team to study the possibility of elections, and Security Council diplomats universally supported the idea in later meetings with Annan.

The secretary-general said he wanted more details on the mission, but he acknowledged the issue was urgent and said he hoped for a speedy decision.

"If we get it wrong at this stage, it'll be even more difficult and we may not even get to the next stage," he said. "So I think it is extremely important that we do whatever we can to assist."

Underscoring that urgency, tens of thousands of Shiite Muslims marched in Baghdad on Monday to demand early elections. It was the biggest public display of Shiite political power here since the collapse of Saddam Hussein's Sunni-dominated regime and could have been held with the U.N. meeting in mind.

The United Nations essentially is being asked to help resolve an argument between the Bush administration and Iraq's most prominent Shiite leader, Ayatollah Ali al-Husseini al-Sistani, who has demanded direct elections to choose a provisional government by June 30. The coalition wants to keep to a handover plan dating from Nov. 15, which calls for caucuses to choose a provisional assembly.

Direct elections would be a boon to Shiites, who comprise about 60 percent of Iraq's population. Caucuses likely would spread representation to the country's minorities, including the Kurds in the north and the Sunnis who had great power under Saddam.

Annan has repeatedly said he did not believe there was enough time for the direct vote before June 30. He indicated Monday he would approve sending the election experts but stressed that security would be paramount for any staff deployed there.

"Obviously, the scope for operational U.N. activities inside Iraq will continue to be constrained by the security situation for some time to come," Annan said.

Sunday's suicide bombing was "not reassuring," he said.

The secretary-general ordered all international staff to leave Iraq in October following two bombings at U.N. headquarters ¡ª including one on Aug. 19 that killed top U.N. envoy Sergio Vieira de Mello and 21 others. Since then, the Bush administration has repeatedly said the United Nations should return immediately, but had not specified what role it would play.

A Japanese armored vehicle makes a turn outside the Governor's House in Samawa, southern Iraq January 20, 2004 after taking their commander colonel Masahisa Sato for a meeting. The Japanese troops arrived in the southern Iraqi city, about 300km south of Baghdad, on Monday night to engage in humanitarian and reconstruction operations. [Reuters]
Security Council diplomats who met with Annan and the Iraqi Governing Council said they respected Annan's request for time to decide what to do. But they indicated they were hopeful Annan's fears would be allayed after the coalition and the Iraqis promised to keep a U.N. team safe.
"I think these conditions will be met," French Ambassador Jean Marc de la Sabliere said. "It is important for everyone to have by the 30th of June a provisional government as legitimate as possible."
Annan and officials from the coalition and the Governing Council indicated that a U.N. team of experts could also suggest alternatives to the coalition-backed and al-Sistani plans, leaving room for a compromise.
"We should not stick to rigid positions on these matters," said Iraqi Governing Council President Adnan Pachachi, who also attended Monday's meeting. "We've got to find ways and means to deal with problems as they arise and I think this is a very healthy way of managing the affairs of our country."

Annan met Monday with the senior U.S. administrator in Iraq, L. Paul Bremer; his British deputy, Jeremy Greenstock; and members of the Governing Council and the U.S.-led Coalition Authority.
Bremer has said elections cannot be organized in time to meet the June 30 deadline, given the ongoing violence and lack of voter rolls. But he said the mechanics of the plan's election formula could be altered.
Asked Monday about reconsidering the possibility of elections, Bremer said, "We think that that is a legitimate question and one where the U.N. with its expertise in elections can offer a perspective."
Pachachi said the decision on elections must be resolved by the end of February, when the Iraqis will implement basic laws for the handover and transition.