A nation in motion as annual ritual begins
( 2004-01-19 23:47) (China Daily By Raymond Zhou)

A worker from central China's Henan Province brings all his belongings with him to catch a home-bound train at the Beijing West Railway Station on January 13, 2004. [Newsphoto]

As the nation begins the big move for the Spring Festival, some issues are forefront: Is the premium on fares fair? Can scalping be checked? Can holidays be rescheduled? Can supply be raised to meet demand?

Spring Festival falls on a different date every year on the Gregorian calendar, this year on January 22. But one thing doesn't change: it is bracketed by the largest number of humans in transit during the year, more than the Moses-led Exodus and Bush's deployment of troops combined, many times over.

The phenomenon is called "Chunyun" or, literally, Spring Transportation.

Over 40 days and 40 nights, 1.89 billion trips are made by Chinese travelling from places they live and work to spend time with their families and friends.

Almost everyone who has stood in line at a railway ticket booth or spent time with scalpers has adventure or horror stories about horrific services or elaborate scams.

So, what is it exactly that turns a family reunion trip and a golden business opportunity into a collective nightmare?

Price leverage?

It is almost meaningless to say China's transportation network does not have the capacity to handle the volume of travellers at this time of year. No system can comfortably accommodate such a surge in human traffic. Therefore, some economists suggested pricing as a way of alleviating the problem.

The reasoning was: If people are willing to pay scalpers, they must be willing to pay a premium for tickets during the "Chunyun" season. Year 2004's premium ticket increase ranges from 15 to 20 per cent for the "hottest" travel days.

But the scheme has not worked since the demand is basically what economists call "price inelastic." People have to be with their families regardless of such surcharges. As a result, it becomes an effective tax on the poor, as a significant portion of the traffic comprised migrant workers.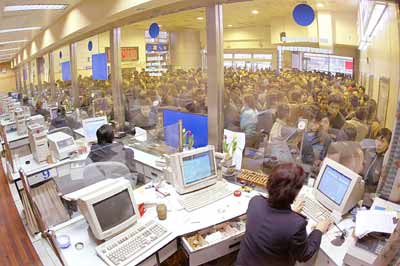 Thousands of passengers are buying tickets in Ningbo Railway Station in East China's Zhejiang Province. [newsphoto]
"Some migrant workers have to shell out two months' salary to pay for travel expenses. That strikes me as unreasonable," says Qiao Zhanxiang, a lawyer who caught national attention when he filed a lawsuit some years ago over the seasonal price rise .
The hike has been proven a failure in achieving its stated goal, says Qiao, but it has surely brought a lot of wealth to certain organizations. However, the degree of the increase is now restrained by public hearings, which are the direct result of Qiao's lawsuit.
Sheng Dalin, a media commentator, questions why there has been no public hearings since 2002. "That is, assuming there has been no change in supply and demand since then," he writes.
In national surveys, price inflation is the least favoured of all possible solutions.
Safety is priority
Good service may not be uppermost in travellers' minds when they are eager to get home for the holiday. But when lack of service turns into flagrant abuse, more than just eyebrows are raised.
In the guidelines issued by the Ministry of Railways, there is a four-point edict: safety, priority, smoothness and service. It is admirable that officials still emphasize good service; but in reality, safety is indeed the No 1 priority. When hundreds of thousands of people converge in one place and so many vehicles are operating above capacity, it is of paramount importance that safety hazards be kept to the minimum.
The ministry forbids special and double-deck trains to run over-capacity; express trains can have no more than 20 per cent over-capacity from the point of departure, and no more than 40 per cent in running; and regular trains no more than 50 per cent.
But if service is a luxury, elimination of fraud is a necessity. When so many people have trouble buying tickets yet can easily get them from a scalper, it does not take a sociologist to ascertain that something is rotten inside the system.
The abundance of tickets in scalpers' hands means that insiders are profiting from selling them in bulk. Management knows this and, in some cities, they are taking action. The Guangzhou Railway Station screens ticket clerks , forbidding them to carry beepers, cellphones or cash into their offices lest they contact scalpers. The Bengbu Railway Bureau imposes severe penalties, such as firing, if clerks are found to be engaging in illegal activities.
"Every day on TV, we see scalpers being caught. But this is just the tip of the iceberg. Those people are not the source of the problem. They are just offshoots. They make very little out of it. It is the people you do not see who are making a fortune," says Lian Hongxiang, a commentator.
Lian argues that, since a strengthened police force cannot root out scalpers, why not set up a secondary market for tickets and "drag the shady business into the legitimate realm"?
Year 2004's Spring Transportation started on January 7 and will end on February 15.
But railway authorities reveal that the actual rush will be packed into 20 days instead of the usual 40 days because this year's Lunar New Year's Day is closer to January 1.
Since the supply to meet the needs of this gigantic human wave is relatively strained, one way out is to reduce demand.
Re-examine schedules
"The vacation schedule should be re-examined. So many colleges and universities start their winter vacation around the same time. And most employers start the holiday season one day before the Spring Festival. If we had a mechanism by which to stagger the starting and ending dates, that would help in some way," says Shu Shengxiang, a commentator.
Pessimists argue that this approach is akin to putting a band-aid on a bullet wound. The railway moves 3.5 million people a day and students make up just one of four major components of this passenger wave. The other groups -- migrant workers, regular travellers and tourists -- are already adjusting their travel dates according to factors over which the government has no control.
Students are always given preferential treatment. They enjoy uninflated, even discounted prices, are sold tickets in bulk and sometimes get to ride on special "student trains" with guaranteed seats. Some people ask whether this is not equivalent to discrimination against other customer groups.
"Schools should shorten their summer vacations and lengthen their winter ones to avoid the national rush," suggests Shu Shengxiang. In a Netease online poll, almost 80 per cent of respondents favour the idea.
Some cities, such as Guangzhou, are openly encouraging migrant workers to "stay for the holidays." Given the combination of local hospitality and unbearable travel conditions, more and more "non-natives" are opting to stay put. Some who are better off invite their retired parents to leave their hometowns and spend the holidays in the big cities, which helps ameliorate traffic congestion nationwide.
"In terms of the number of trips, the railway accounts for less than 10 per cent of the nation's total," says Yue Yang, an executive at Beijing Railway Station.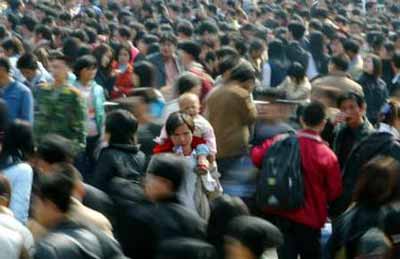 A Chinese traveller carries his baby on his shoulder at a railway station in Guangzhou, South China's Guangdong Province January 17, 2004. [newsphoto]
But the railway system shoulders much of the burden of long-distance travel, and inadequate capacity is a major headache. Most of the traffic originates from economically-developed metropolises, such as Shanghai and Guangzhou, or transportation hubs, such as Nanchang and Wuhan, but railway capacity at these places can barely satisfy half the traffic needs. "China has 72,000 kilometres of railway, but we need 150,000 kilometres to reach an ideal balance," states Yue.
Statistics show that China's railway length accounts for 6 per cent of the world's total, but its workload adds up to 24 per cent of the world's total. Average mileage per person ranks 100th in the world.
Some experts believe it is unfair to blame railway regulators and management for everything as the design of China's railway system, which is out of sync with the increased number of travellers, is a product of central planning from the old days.
"The railway has raised the speed limit. They have reserved hundreds of trains at crucial hubs, and they have multiple contingency plans for dealing with various situations," says Wei Hua, a transportation analyst.
But it may not be enough to catch up with growing demand. It is estimated that 2004's traffic during the 40-day transportation peak will rise by 3 per cent over 2003, to 1.89 billion trips, according to National Development and Reform Commission.
"Shortage of capacity will not be solved in five to 10 years, and the pressure of "Chunyun" will most probably last longer," warns Ma Liqiang, director of the commission's economics bureau.
However, it may not be practical to build up capacity to suit peak demand, says Liang Xiaomin, an economist.
"As millions of people have left their hometowns to seek a better life in the coastal urban areas, it is foreseeable that more and more people will have the need to return home for this big holiday, which is a deep-rooted Chinese tradition. Unless China's western region is fully developed so that it can absorb much of its own surplus labor force, this trend will persist. And our rigid residency system certainly does not help because these people cannot make their homes in the cities where they work and therefore they have more incentive to go back to their roots once a year," says Lu Jie, a scholar studying the phenomenon.
Most experts agree that creating greater capacity, not only by building high-speed railways but also by constructing alternatives such as motorways, is the ultimate solution. But before that happens, the scarcity of resources in the country's transportation system must be dealt with.
Opinion is divided as to which is the better way. Some debate that more reforms are needed. If private or foreign capital is allowed into the industry, more roads can be built. And prices will reach a reasonable equilibrium when there is no national monopoly and government bows out from micromanaging the industry.
Others contend that the market has many blind spots and public policy should come into play here.
"The imbalance between the regions where more jobs are located and the ones job-seekers come from is not something one single ministry or agency can solve. Freedom of movement and relocation will only exacerbate the spring holiday traffic," says Cao Lin, another media commentator. "So many people from poor, rural places have to spend a great deal of money and energy to make the annual journey home -- that is money they could have spent at home and injected into the very needy local economy."
Facts Box:

Modes of travel and Annual Growth for 2004 "Chunyun"

Expected total number of trips: 1.89 billion

In trains: 137 million (2%)

In buses: 1.717 billion (3%)

In boats: 26 million (marginal)

In planes: 10.5 million (9.6%)