Nine killed in gun battle in Indian Kashmir
( 2004-01-18 15:38) (Agencies)
Six militants and three Indian soldiers were killed in a shootout in Indian Kashmir on Saturday, police said, the highest toll in a single gun battle in the disputed region in months.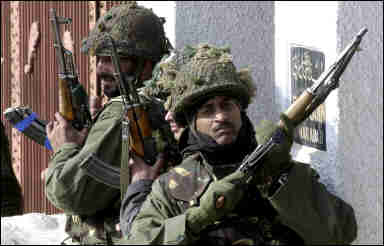 Indian soldiers in Kashmir after an encounter with a rebel group. [AFP]

The killings came a day after authorities said Indian forces shot dead four top Islamic guerrilla leaders in the troubled Himalayan region, where a bloody revolt against Indian rule has raged since 1989 and claimed tens of thousands of lives.

Saturday's fighting lasted nearly eight hours and took place in a forest in the Bandipur area, about 60 km (40 miles) north of Srinagar, Kashmir's main city, a police spokesman told Reuters.

He said the dead soldiers included an army major and added that the identity of the guerrillas was being ascertained. No militant group has yet claimed involvement in the shootout.

Separatist violence has continued in Kashmir despite peace moves between nuclear-armed neighbors India and Pakistan, who were near the brink of war over the region in mid-2002.

Indian and Pakistani leaders earlier this month decided to resume talks in February to resolve disputes plaguing their relationship, including Kashmir, cause of two of their three wars since independence from Britain in 1947.