Israel to reopen Erez border crossing
( 2004-01-18 09:58) (Agencies)
Israel will reopen the Erez crossing between the Jewish state and Gaza for the first time since a female suicide bomber killed four Israelis earlier this week, Palestinian security sources said Saturday.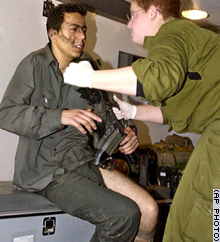 A medic treats an Israeli border police officer after Wednesday's suicide bombing.

The sources said the Israeli army told them that the crossing point between Gaza and Israel will be open for Palestinian workers from 3 a.m. to 2 p.m. Sunday (8 p.m. Saturday to 7 a.m. EST).

Only those 35 or older and married will be allowed to pass, the sources said.

As many as 20,000 Palestinians use the crossing into Israel each day to get to work.

The crossing has been closed since Wednesday, when a female suicide bomber killed four Israelis at a checkpoint leading to the Erez industrial zone.

The bomber -- who was a mother of two -- staged the attack.

Hamas, a Palestinian Islamic fundamentalist organization, claimed joint responsibility for the terror attack with Al Aqsa Martyrs Brigades, a military offshoot of Palestinian leader Yasser Arafat's Fatah movement.

Both groups have claimed responsibility for previous terrorist attacks against Israeli targets and have been labeled terrorist organizations by the U.S. State Department.

Three soldiers and one Israeli civilian were killed in the attack, according to the sources. Ten people, including four Palestinians, were wounded.