U.S.-China military ties on the mend
( 2004-01-18 09:55) (Agencies)
American officials are calling General Richard Myers' visit to China a sign that military relations between the two countries are recovering.
But joint maneuvers by their combat forces are not expected anytime soon because Washington and Beijing remain far too wary of the other.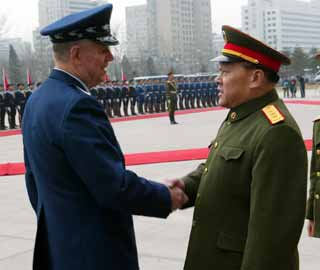 General Myers shakes hands with his Chinese counterpart General Liang Guanglie January 14, 2004. [newsphoto]
Military ties, severely curtailed three years ago after a Chinese fighter collided with an American spy plane over the South China Sea, are regarded as a vital part of U.S. diplomacy with the world's most populous nation.
Myers, chairman of the Joint Chiefs of Staff, met Wednesday and Thursday with Chinese officials in Beijing. He was the highest-ranking U.S. military official to visit China since 1997.
"We're making some good progress in our military-to-military relationship," Myers said at the end of his visit.
Myers and his entourage became the first foreign delegation allowed access to the mission control facility for China's new manned space program. Myers congratulated China for last October's achievement of becoming only the third nation to put a man into orbit.
Still, the visit was one with few immediately tangible results: no new agreements, no sweeping new statements of U.S. or Chinese policy.
Instead of joint exercises by combat forces, a usual training procedure of allied military forces, Myers suggested joint search-and-rescue exercises, educational exchanges and additional visits by warships to ports in each country.
A Chinese warship recently stopped in the U.S. territory of Guam, and a U.S. vessel is expected to visit a Chinese port soon.
No U.S. warships visited the Chinese mainland for one and a half years after the April 2001 spy plane incident; the first was a destroyer at the port of Qingdao in November 2002, as a battle group with the aircraft carrier Constellation spent four days at Hong Kong, a special administrative region of China.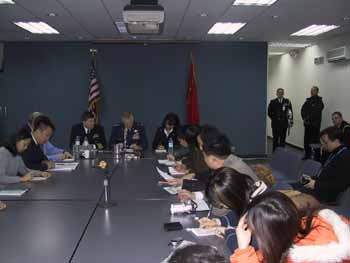 General Myers meets the reporters in Beijing.
In Myers' view, increased economic ties are the best way to trump any military conflict. Restrictions upon the commerce among the United States, the Chinese mainland and Taiwan would severely hurt all three.
He acknowledged that the U.S.-Chinese military relationship has had fits and starts. As relations periodically seemed to improve, crises have wrecked them.
In 1996 the US conducted the largest naval maneuver since the Vietnam war when President Clinton sent two carrier groups to the vicinity of the Taiwan Strait.
Relations improved so that in May 1997 Myers' predecessor, Army Gen. John Shalikashvili, visited China. Then in May 1999, satellite-guided bombs from an US Air Force B-2 bomber hit the Chinese Embassy in Belgrade, Yugoslavia, during the U.S.-led air war. China broke off military contacts after the Clinton administration said the bombing was in error.
Just as Chinese-U.S. ties appeared to be getting back on track came the collision between a Chinese jet fighter and the U.S. reconnaissance EP-3E aircraft it had been shadowing off China's Hainan island.
A possible new crisis could be brewing over Taiwan, always a sticking between the two nations.
Taiwan leader Chen Shui-bian has declared an immediate security threat from the mainland and has announced that the island will hold a referendum March 20 ¡ª the day Chen seeks re-election ¡ª on whether Beijing should stop pointing hundreds of missiles at Taiwan. Washington criticized the referendum as unnecessary, and Chen softened its wording last week to mollify Beijing.
Unlike his two most immediate predecessors at the Pentagon, Rumsfeld has not visited China, although he met his counterpart, General Cao Gangchuan, in Washington in October.
Myers' visit ¡ª a mix of dinners, meetings, and press events in Beijing ¡ª was an investment in personal relationships as much as anything.
He said he hopes future cooperation will take place at all levels, including allowing lower-grade officers contact with their counterparts. That sort of continuing engagement makes it harder to go to war: A Chinese and an American colonel who trade e-mail addresses over dinner may end up, 10 years hence, being the two senior generals who must confer during a crisis.
During his visit, Myers invited his counterpart, Liang Guanglie, chief of the General Staff of the People's Liberation Army, to visit the United States this year. Liang accepted.