U.S. death toll in Iraq reaches 500
( 2004-01-18 09:46) (China Daily)
A powerful bomb exploded under a U.S. armored vehicle in the cane fields north of Baghdad on Saturday, killing three American soldiers and pushing the U.S. death toll in the Iraq conflict to 500.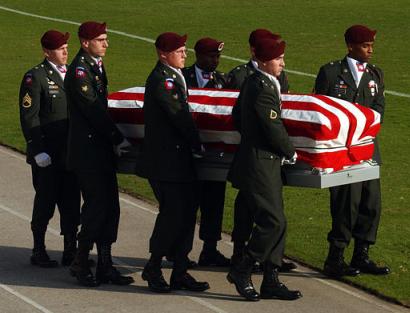 An honor guard carries the casket of Army Chief Warrant Officer Aaron Weaver during a memorial service Saturday afternoon, Jan. 17, 2004 at Citrus High School in Inverness, Fla. Weaver, who survived cancer and the 1993 battle of Mogadishu, recounted in the movie ``Black Hawk Down,'' was killed in a helicopter crash in Iraq. [AP]

Reaching that threshold underscores the dangers still facing U.S. forces in Iraq as President Bush's administration prepares to seek help from the United Nations in building a new Iraq, after shunning the world organization for months.

Two Iraqi civil defense fighters were also killed and two American soldiers wounded when the bomb exploded under their Bradley fighting vehicle. The group was searching for land mines and roadside bombs near Taji, about 20 miles north of the Iraq capital, 4th Infantry Division spokesman Lt. Col. Bill MacDonald said.

The blast flipped the 30-ton vehicle and set it afire, witnesses said. Three men fleeing in a white truck were detained, and soldiers found bomb-making material in the vehicle, MacDonald said. Residents reported that American soldiers rounded up an undetermined number of young men as well.

MacDonald said the remote-controlled bomb was made up of two 155mm artillery rounds and other explosives. Hours afterward, young Iraqis pilfered bits of charred metal in a large crater left by the blast.

The military also said a U.S. soldier died from a non-hostile gunshot wound south of Baghdad. The incident occurred Friday evening near Diwaniyah, the command said in a statement. No further details were released.

The deaths raised to 500 the number of American service members who have died since the U.S.-led invasion of Iraq started March 20. Of those, 346 died as a result of hostile action and 154 of non-hostile causes, according to Defense Department figures.

Most of the deaths have occurred since President Bush declared an end to major fighting on May 1. The death toll from the Gulf War, when an American-led coalition drove Saddam Hussein's invaders from Kuwait in 1991, was 315.

In Afghanistan, 100 Americans have been killed, less than a third of them from hostile fire.

The deaths come as insurgents have shifted to using roadside bombs and hit-and-run tactics like the attack Saturday. A new troop rotation over the next four to six months will address that change, replacing heavy weaponry with high-tech, mobile fighting gear, a senior Army official said Saturday on condition of anonymity.

The change will also reduce troop numbers from 130,000 to 105,000 in the largest troops rotation since the World War II, the official said.

A military spokesman in Baghdad, Brig. Gen. Mark Kimmitt, said troop morale remained high despite the rising death toll. U.S. officials say the number of attacks against coalition forces has declined sharply since November, in part because soldiers are using more aggressive tactics.

"I don't think the troops have any doubt what their mission is," Kimmitt said. "They know they have a nation that stands behind them. They know they have a military that stands behind them ... I don't believe that any arbitrary ... casualty figure is going to cause any soldiers to lose their will or lose their focus."

But officials believe insurgents may be showing increasing sophistication. They have downed several American helicopters in recent months in some of their deadliest attacks, possibly even using shoulder-fired Soviet-made missiles like SA-7s.

Reaching the 500 threshold could again raise questions among the American public about Bush's Iraq policy as the U.S. presidential campaign picks up, analysts said.

"I think it's symbolic in the sense that maybe a lot of people who have not paid attention in recent weeks ... will say 'I thought that we were in much better shape than this,' and 'What's going on?'" said Lawrence J. Korb, vice president of the Council on Foreign Relations and assistant secretary of defense under former President Ronald Reagan.

Following an upsurge in casualties last fall, the Bush administration decided to speed the timetable for ending the occupation and establishing a sovereign government, albeit unelected, by June 30. Members of a provisional legislature will be selected in 18 regional causes, and will in turn choose the government.

However, the country's powerful Shiite Muslim leader, Ayatollah Ali al-Husseini al-Sistani, has demanded direct elections for the legislature, something U.S. officials say would be impossible to arrange by June 30.

Facing political problems with the majority Shiites and the continuing insurgency by minority Sunni Muslims, the Bush administration is turning to the United Nations, which it had earlier shunned, for help in establishing a democratic Iraq.

The senior U.S. administrator in Baghdad, L. Paul Bremer, and an Iraqi delegation led by Adnan Pachachi, current chairman of the U.S.-appointed Iraqi Governing Council, plan to confer in New York on Monday with U.N. Secretary-General Kofi Annan.

The Bush administration had tried to keep U.N. participation at a minimum before and during the war last year.

"The U.N. has a lot of expertise in organizing elections, electoral commissions, electoral laws, has a great deal of expertise it can bring to bear," Bremer said Friday after meeting with President Bush.

U.S. officials also hope Annan will help convince al-Sistani that early elections are impossible. They believe al-Sistani might find that idea easier to accept if it comes from the United Nations instead of coalition officials.