Jiang: Constructive US role on Taiwan valuable
( 2004-01-15 23:03) (China Daily)
China values the commitment of the United States Government to play a constructive role in the peaceful settlement of the Taiwan question, the country's top military leader said yesterday.
Stressing Taiwan as the most important and sensitive question in Sino-US relations, Jiang Zemin, chairman of the Central Military Commission said the mainland will adhere to a "peaceful reunification, and one country, two systems."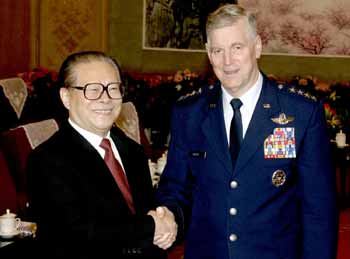 Jiang Zemin meets with General Myers. [Reuters]
Jiang made his remarks when meeting yesterday with visiting the top uniformed American, General Richard Myers, chairman of the Joint Chiefs of Staff of the armed forces.
US President George W. Bush delivered a public rebuke to Taiwan last month, during a visit to the White House by Premier Wen Jiabao.
"The comments and actions made by the leader of Taiwan indicate that he may be willing to make decisions unilaterally to change the status quo, which we oppose,'' Bush said, referring to the Taiwan authorities' plan of "defensive referendum" aims at splitting up Taiwan from China.
Jiang told Myers: "We will make all efforts to achieve reunification with Taiwan by peaceful means, and will not allow Taiwan's independence."
Jiang said Sino-US relations maintain good momentum, and the two sides should deal with their relationship from a strategic and long-term viewpoint, expand consensus, reduce differences, and solve problems to push forward a healthy and stable bilateral relationship.
At yesterday's press conference, Myers said the United States has a very good understanding on the Taiwan question, and the Chinese viewpoint.
Myers described his talks as "very beneficial" and said his team was "making good progress in military-to-military relationship" building with China.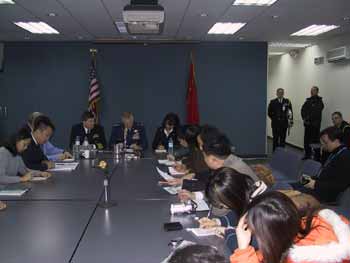 He also said the visit is a step in keeping the US-China inter-military relationship growing.
According to Myers, the two militaries will hold defence consultative talks February 11-12. Apart from port calls, General Liang Guanglie, chief of the General Staff of the People's Liberation Army, will also visit the US later this year.
Myers said his talks with Chinese military officials also covered the Korean Peninsula and international terrorism.
"There is consensus that a nuclear-free peninsula is the shared goal of China and the United States," said Myers.
He said each military agreed to fight terrorism.
Myers arrived in Beijing on Monday as the top military officer to visit China since the mid-air collision of a US scout plane EP-3 with a Chinese fighter over the South China sea in 2001.
His visit is regarded as a positive step following Defence Minister Cao's visit to Washington last October.
Cao also became the first Chinese defence chief to visit the Pentagon since 1996.
The mutual visits were seen as fruits of Former President Jiang Zemin and US President George W. Bush's agreement to re-start high-level, military-to-military exchanges during talks at Bush's Crawford, Texas in ranch in October 2002.