Hu to visit France, African nations
( 2004-01-15 22:40) (China Daily)
At the invitation of his foreign counterparts, Chinese President Hu Jintao will visit France, Egypt, Gabon and Algeria between January 26 to February 4, Foreign Ministry spokesman Kong Quan said yesterday.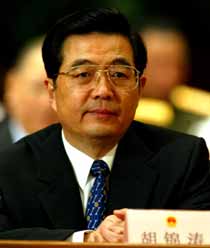 Hu Jintao [file/newsphoto]

During his two- to three-day visit to France, Hu will meet French President Jacques Chirac to discuss bilateral relations for the 21st century and international questions, Kong said.

Hu may also give a speech at the French parliament and meet with parliamentary leaders and the prime minister.

During his visit in France, Hu may also appear at a Chinese cultural exhibition, a follow-up event to mark the Chinese-French Cultural Year.

Accompanied by State Councilor Tang Jiaxuan, Foreign Minister Li Zhaoxing and other officials, Hu will also meet his Egyptian counterpart Mohammed Hosni Mubarak and discuss the constructive partnership set by the two countries in 1999.

Detailed agendas for Hu's visits are not finalized.

During the ministry's regular briefing, Kong also told reporters that Fu Ying, head of the Foreign Ministry's Asian Affairs Department and Ning Fukui, China's special envoy for the Democratic People's Republic of Korea (DPRK) nuclear issue have concluded their activities in the United Sates after meeting with US Assistant Secretary of State James Kelly and other officials.

Through discussions, Kong said he "generally believed" the Chinese and US officials made progress towards the second round of six-party talks on the DPRK nuclear issue.

In another development, the spokesman said the recently completed second round of talks on border issues between China and India were "friendly and constructive."

The talks were held in Beijing Monday and Tuesday between Vice-Foreign Minister Dai Bingguo, who acted as Chinese special representative, and Indian special representative Brajesh Mishra.

The two sides have agreed to continue talks during a third round to be held in New Delhi, Kong said.

The Sino-Indian border issue is a complicated historical problem and the two countries held the first round of ministerial-level talks on October 23 and 24, 2003.