Foreign direct investment picks up in December
( 2004-01-14 23:46) (China Daily)
Large foreign direct investment (FDI) contracts flowed back to China in December to enable the nation's 2003 FDI record to rise a hard-won 1.44 per cent from the previous year, to reach US$53.5 billion in paid-in terms, according to the Ministry of Commerce yesterday.
The manufacturing industry continued to be the star performer, garnering 70 per cent of the total investment.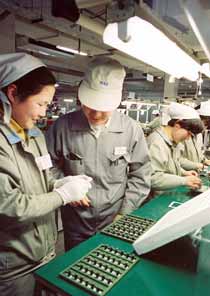 This ended the debate whether China, the world's largest FDI recipient in 2002, would see a negative growth in capital imports after it experienced two-digit falls for five straight months since July.

But December's strong revival in FDI influx put an end to the downward trend. The ministry did not specify the December data. But according to industry analysts, FDI in December reached US$6.35 billion, rising 24.8 per cent year-on-year.

"Electronics, telecom equipment, chemicals and machinery were the hottest areas in the manufacturing industry last year, and the trend is unlikely to change in 2004,'' Jin Bosheng, director of the foreign investment research department of the Chinese Academy of International Trade and Economic Co-operation, told China Daily.

He added that he believed the December surge indicates the weakening of repercussions from the severe acute respiratory syndrome (SARS) outbreak which threatened the nation's economy in the earlier months of 2003.

In a region-by-region analysis, Shanghai and the three provinces of Jiangsu, Guangdong and Shandong were the top FDI destinations last year.

Top five FDI contributors

Hong Hong

Britain

Japan

South Korea

United States

Jin, who remained optimistic that FDI would not be lower than the 2002 level, predicted in September that a boom cycle would come at the turn of the year.

He said that the number has been a significant achievement, since the global capital flow dropped this year because of a gloomy world economic climate. The number was, however, lower than an internal target of US$57 billion.

According to the United Nations Conference on Trade and Development (UNCTAD), global FDI flows in 2003 remained flat, at US$653 billion, and China's share was 8 per cent of it.

Statistics from UNCTAD reveal that China, which replaced the United States as the world's largest FDI recipient in 2002 for the first time, in turn lost its title to the US.

FDI flows to the US tripled to US$86.6 billion last year.

In the meantime, a debate still continues over whether China will slow down in 2004, although Jin added that "momentum is still robust.''

Top four FDI destinations

Jiangsu

Guangdong

Shandong

Shanghai

The number of foreign investment contracts showed lots of money are waiting to flow into China, he said. Contracted foreign investment in 2003, an indicator of future trends, was US$115 billion, soaring 39 per cent from a year earlier, the ministry said.

"China will continue to be a hot destination for FDI, since no drastic change happens in its favourable macro-situation,'' Jin said.

He explained that China is maintaining strong economic performance, quick foreign trade growth and expanding opening areas to investors.

China is also maintaining a stable political situation and secure investment environment, whereas many other countries are troubled by fears of terrorism and other matters.

"More destinations favoured by foreign investors like the Yangzte River Delta and Pearl River Delta will be forged when foreign investors move some industries outside developed countries," he said, and predicted that FDI will hit US$70 billion this year.

Huang Yiping, an economist at Citigroup, said that previous uncertainty about whether China would revalue its currency stymied new investment.

The foreign investors who build factories in China for exporting goods back to their own countries worried whether export competitiveness would be dampened by such revaluing.

"But with the pressure fading, you will probably see pretty strong flows early next year," Huang added.

However, some economists still do not look favourably on China. Hui Tai, an economist with Standard Chartered, said FDI will slow this year because of fewer big deals.

"A lot of the big companies, such as members of the Fortune 500, have already invested in China,'' he said. "They need time to digest before they top up their investments."

A lot of new FDI will come from smaller firms seeking to cut costs and rub elbows with big customers already in China, he said.

In fact, the Ministry of Commerce, the watchdog of foreign investment, said earlier it demands more efforts to level FDI flow this year with that in 2003.

Officials said they will stage more favourable policies and further open the financing, commercial and tourism industries to foreign investors.

Foreign companies are also welcome to locate their manufacturing, outsourcing, research facilities and headquarters in China, officials said.

Comment: Keeping up China's allure to investors

China saw its foreign direct investment (FDI) continue to grow in 2003.

Although the increase was just 1.4 per cent year-on-year, it is in a way more significant than the expected annual growth of the gross domestic product (GDP) of 8.5 per cent.

Overseas investors only started swarming back to the country in December after the stalled FDI growth in the previous six months and even drops of more than 30 per cent during the same period in 2002.

The slowdown was largely an aftereffect of the outbreak of SARS (severely acute respiratory syndrome), a previously unknown epidemic disease, that was first reported from the relatively industrialized Pearl River Delta in the early months of last year and hit several other major cities from April to June. Among the affected cities was Beijing, the national capital.

It was only after painful efforts, including mobilizing the military's medical service, that the central government managed to bring the highly contagious disease under control.

It took even longer, as it turned out, for the nation to win back the confidence of the overseas business community and attract more FDI. Foreign investors"commitments to China saw an annualized rise of more than 250 per cent in December, showing, once again, that the country is regarded as one of the favourite investment destinations around the globe.

But confidence in China in the post-SARS days is different from that prior to its outbreak. Other than the nation's abundant labour, enterprising culture, and good public infrastructure, such as seaports and inter-provincial expressways, there is a new dimension to the country's allure.

That is the effectiveness of its government, as seen during the SARS fight, to reorient priorities, quickly design contingency plans, calm down a confused public, supervise the grassroots-level assistance and keep situations under control.

Such effectiveness is an assurance for China's investors "an assurance of both the level of service they may expect to get from China and future opportunities in the country.

At the same time, government officials have been addressing "quality of life"issues more often than at any time in the past two decades. This intense scrutiny is driven by a need to further develop the countries public health system and social security net.

This is a good change for China's investors as well as its labour force. First, investors are likely to hire from Chinese workers of a higher quality. They will not only be hard working and relatively inexpensive, but be covered by more adequate healthcare and better living and working conditions. It is the kind of labour that can sustain China's economic progress.

Second, more services will inevitably translate into more development opportunities in the service industries and into a demand for new investment.

Indeed, China can draw little satisfaction from acting just as the world's factory. Its cities should become service centres, not just manufacturing centres. And with a booming service economy, China will be a much greater attraction for overseas investors.