Beijing prepared to crush separatist activities
( 2004-01-14 22:35) (China Daily)
With two months to go for Taiwan's "presidential" elections on March 20, Beijing has remained steadfast on its strategy to keep the island from drifting further towards independence.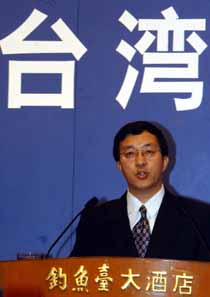 Li Weiyi [Filephoto/newsphoto]

While strongly warning against Taiwan leader Chen Shui-bian's pro-independence push, senior government officials yesterday tried hard to attract Taiwanese investors with vast market and abundant business opportunities.

Li Weiyi, spokesman of the Taiwan Affairs Office of the State Council, told a regular press conference that the mainland has "firm determination and necessary preparation" to crush splittist activities.

"We... are fully confident to safeguard the sovereignty and territorial integrity of the motherland," he said.

"We will not allow anybody to split Taiwan from China in any form."

The spokesman called Chen's proposed "defensive referendum" a great challenge to peace in cross-Straits relations.

Through such an islandwide election, Chen aims to pave the way for a future plebiscite on changing Taiwan's status to declare formal independence, Li said.

The Taiwan leader has insisted on holding the referendum on election day despite blunt warning from both Beijing and Washington.

The referendum plan has been widely seen as Taipei's unilateral move to upset the cross-Straits status quo, which threatens to trigger tension and could even armed conflict between Taiwan and the mainland.

Despite harsh political rhetoric, mainland officials softened their tone when addressing economic issues at the press briefing.

Ren Airong, deputy director of the Taiwan, Hong Kong and Macao Affairs Office under the Ministry of Agriculture, pledged to strengthen cross-Straits agricultural co-operation and open wider to Taiwanese investors and farming products.

She said the mainland -- with its huge consumption market, plenty of plantation resources and a sound investment environment -- can provide myriad opportunities for Taiwanese agricultural enterprises.

"Both sides of the Straits can model on the closer economic partnership arrangement between the mainland and Hong Kong and Macao to facilitate bilateral agricultural trade," the official said.

She added that the mainland is ready to allow more imports of agricultural products from the island while offering convenient quarantine and logistics services.

Official statistics suggest the mainland had approved 4,609 Taiwanese-funded agricultural projects by the end of last year, with investment totalling up to US$3 billion.

As a whole, the number of Taiwanese-funded businesses on the mainland rose by 4,495 in 2003, with contract investment of US$8.56 billion.

Indirect trade volume across the Straits topped US$50 billion for the first time last year, hitting US$58.37 billion.

Top US military officer backs one China

The US Government adheres to the one-China policy, and hopes to maintain stability in the Taiwan region, said US Chairman of the Joint Chiefs of Staff General Richard Myers Wednesday in Beijing.

Myers is in Beijing for a two-day visit. He met Wednesday with senior Chinese military officials, including General Liang Guanglie, chief of the general staff of the Chinese People's Liberation Army (PLA), Vice-Chairman of Central Military Commission General Guo Boxiong and Defense Minister Cao Gangchuan.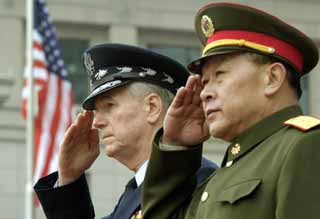 General Myers and General Liang Guanglie salute during a welcome ceremony for Myers. [Reuters]
During the meetings, the Chinese military officials stressed China's sincere wish for peaceful reunification and firm determination to crush splittist activities.
General Liang endorsed a sound relationship between the two armed forces. But he also enunciated China's "one country, two systems" and "peaceful reunification" stance on the Taiwan question.
General Guo Boxiong and General Cao Gangchuan said in separate meetings that China would strive for peaceful reunification of the country.
"We respect Taiwan compatriots' wish to seek democracy. However, we can absolutely not accept and tolerate Taiwan authorities using democracy as an excuse to pursue independence, and use the 'defensive referendum' to split Taiwan away from China," Guo and Cao were quoted as saying by a Chinese military spokesman.
On bilateral military ties, Myers said a sound relationship between the two big nations and their armed forces is crucial to safeguard international and regional stability.
Also yesterday, a group of US military officials, led by Myers, became the first foreign delegation to visit the Beijing Aerospace Control Centre, responsible for operation control of China's first manned space mission last October.
Myers is the highest-level US military officer to visit the country since the mid-air collision of an EP-3 US scout plane with a Chinese fighter over the South China sea in 2001.
His visit is regarded as a positive step following Defence Minister Cao's visit to Washington last October in which US defence officials said that the two countries planned to increase military exchanges during 2004.
Cao also became the first Chinese defence chief to visit the Pentagon since 1996.
The mutual visits are seen as fruits of former President Jiang Zemin and US President George W. Bush's 2002 agreement to re-start high-level military exchanges.
Before Myers, the highest-ranking US military officer to visit China under Bush administration was Thomas Fargo, commander of US Pacific Command, who visited China in December 2002.
Today, Myers is scheduled to meet Jiang, who is now chairman of Central Military Commission.