Ex-Enron finance chief Fastow, wife OK guilty plea
( 2004-01-14 10:36) (Agencies)
Former Enron chief financial officer Andrew Fastow and his wife, Lea Fastow, were set to plead guilty on Wednesday to federal criminal charges arising from the collapse of the bankrupt merchant energy giant.
A source close to the case said they would admit to misdeeds in exchange for far more lenient sentences than they might have gotten had they been convicted in a jury trial.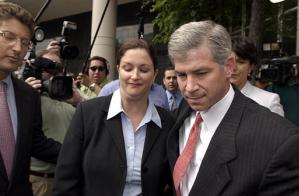 Lea Fastow, center, leaves the federal courthouse in Houston with husband and former Enron chief financial officer Andrew Fastow, right, in this May 1, 2003 file photo. Andrew Fastow and his wife, Lea, have agreed to plead guilty for their roles in a massive accounting scandal that brought down the energy giant in 2001, sources told The Associated Press on Tuesday, Jan. 13, 2004. [AP]

The plea deals, which must be approved by federal judges, could give a boost to prosecutors seeking to indict other former Enron bigwigs if the Fastows agree to tell investigators everything they know.

Still not charged in the financial scandal that opened a window on wider U.S. corporate misdeeds are former Enron chairman Ken Lay and former chief executive officer Jeff Skilling, both of whom have proclaimed their innocence.

Andrew Fastow was the numbers whiz kid who masterminded Enron's use of off-the-books partnerships to hide billions of dollars in debt and artificially boost profits. Authorities say at least $45 million from those deals were siphoned off by him and his wife.

Enron was the leading U.S. energy merchant firm and a Wall Street darling until its loose accounting, once praised by experts as innovative, led to a restatement of earnings and a $1.2 billion writedown of shareholder equity in the weeks leading up to a Dec. 2, 2001 filing for bankruptcy from which the company has not yet emerged.

News reports say Fastow was expected to plead guilty before U.S. District Judge Kenneth Hoyt to some part of the 98 criminal charges against him in exchange for a 10-year sentence. He could have faced life in prison if convicted of the crimes.

Lea Fastow earlier agreed to plead guilty to a tax fraud charge that was one of six counts against her in exchange for a five-month sentence. But U.S. District Judge David Hittner, who is handling her case, scotched that deal last week, saying he might want to impose a stiffer penalty and asked for a pre-sentencing investigation to help him decide.

Negotiations have been carried out since then to work out a new deal that defense and government lawyers hope will be approved by Hittner.

She could have faced up to 37 years in prison if convicted on all counts.

Andrew Fastow's plea bargain was said by attorneys to be contingent on Hittner's acceptance of his wife's deal.

The couple hopes to avoid overlapping jail sentences because of their two young sons, their lawyers said.

If no plea bargains are reached, Lea Fastow is set to go to trial starting Feb. 10. Her husband is scheduled for trial in April.