36 said killed in Uzbekistan plane crash
( 2004-01-14 09:43) (Agencies)
A domestic airliner crashed Tuesday on approach to the airport in Uzbekistan's capital, the Interior Ministry said. At least 36 people, including the top U.N. official for Uzbekistan, were aboard and no survivors were reported.
The plane was an Uzbekistan Airways Yakovlev-40 en route from Termez, in the country's far south along the Afghanistan border, said an Interior Ministry duty officer who declined to give his name. He gave no further details.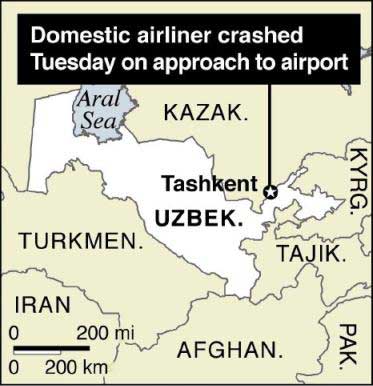 The map locates where a domestic airliner crashed Tuesday, Jan. 13, in heavy fog on approach to the airport in Uzbekistan's capital, Tashkent. Airport employees said 37 people were aboard and that all were believed killed. [AP Graphic]


An Uzbekistan Airways official in Moscow, Eduard Mirzoyan, was quoted by the news agency Interfax as saying 36 people were aboard. One airport employee, who declined to give his name, said 32 passengers and five crew members were aboard the plane. He said no one was believed to have survived.

Richard Conroy, the senior United Nations official for Uzbekistan, was aboard the flight, said U.N. Development Program spokesman Bill Orme. It wasn't known if Conroy, a 56-year-old British-Australian citizen, had died.

"We can confirm that he was on the plane," Orme said. "We are not aware of any other U.N. officials being on that flight."

Termez became a major hub for humanitarian aid into northern Afghanistan after the fall of the Taliban in late 2001, and aid workers and other foreigners commonly fly on flights between that city and the Uzbek capital. German troops have also been using the airport in Termez as a support base for peacekeeping troops in Afghanistan.

At the Tashkent Airport, Prime Minister Shavkat Mirziyayev and some aides approached a group of people waiting for the flight's arrival and led them into a nearby room. Later, a woman ran out of the room, crying "Oh, my beloved!"

The plane crashed on approach to the airport in heavy fog. The crash area was sealed off to the public, but one airport worker said the plane appeared to have hit a stanchion of approach lights and flipped over, hitting the outside of a wall surrounding the landing area.

The area adjacent to the landing area is a mixture of industrial buildings and open spaces. It was not clear whether any buildings were damaged in the crash.

Several hours after the crash, the airport announced that it was closed due to bad weather and that arriving flights were being diverted to Samarkand, about 200 miles to the southwest.