U.S. announces ban on import of civets
( 2004-01-14 02:02) (Agencies)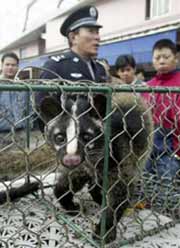 A confiscated civet cat paces inside a cage at a wild animal market in Guangzhou, November 12, 2003.[Reuters]

The United States has imposed an immediate embargo on the import of civet cats because of suspicions that the mongoose-like animal has spread the SARS virus to humans.

``This embargo will help us protect the American public and prevent introduction of SARS in the United States,'' U.S. Health and Human Services Secretary Tommy Thompson said Tuesday.

While scientists have not found unequivocal evidence that the small tree-dwelling mammal is responsible for transmitting Severe Acute Respiratory Syndrome to humans, they have found the SARS virus in civets and China has ordered the killing of thousands of the animals.

It wasn't clear how many civets, regarded as a delicacy in southern China, are imported into the United States.

Thompson said noninfectious civet products, such as taxidermied animals, and civets imported for educational or scientific purposes, would not be affected by the ban.

SARS was first found in Guangdong, southern China, in late 2002 and sickened more than 8,000 people worldwide before subsiding in June. The disease killed 774 people.