Top US military officer starts China visit
( 2004-01-13 23:30) (China Daily By Hu Qihua)
The United State's highest ranking military officer, Chairman of the Joint Chiefs of Staff General Richard Myers, arrived in Beijing late Tuesday for the highest level military visit to China since the mid-air collision of a US scout plane EP-3 with a Chinese fighter over the South China Sea in 2001.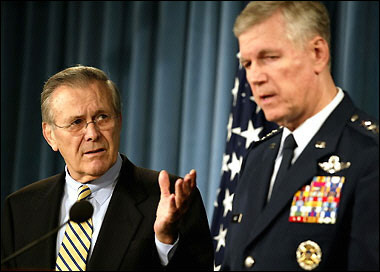 US Secretary of Defense Donald Rumsfeld (L) and Chairman of the Joint Chiefs of Staff, General Richard Myers (R). [Filephoto/Reuters]
On Wednesday, Myers is scheduled to meet his Chinese counterpart General Liang Guanglie, Chinese Defence Minister General Cao Gangchuan and Central Military Commission Vice-Chairman General Guo Boxiong, according to US officials.
"General Myers' visit is an important step in a series of US-China military activities, including high-level visits, confidence-building measures and professional exchanges," a written statement released Tuesday by the US embassy to China said.
Foreign Ministry spokesman Kong Quan said Tuesday Myers' visit is a very important one starting off the new year.
"We believe that through this visit we can deepen understanding between the two militaries, expand bilateral consensus and develop bilateral friendship while also promoting the healthy and stable development of Sino-US military relations," Kong said at a regular news conference.
General Cao visited Washington last October. Top US defence officials said at the time the two countries planned to increase military exchanges at all levels in 2004.
Cao, who also met with Myers, became the first Chinese defence chief to visit the Pentagon since 1996.
"Such top-level military visits mark an all-round restoration of the military ties between the two great powers after nearly three years of strain," a well-placed source with Chinese military told China Daily Tuesday.
Mutual military exchanges, security co-operation, and Taiwan question are expected to be touched upon, the source said.
The visits were seen as fruits of former President Jiang Zemin and US President George W. Bush's agreement to re-start high-level military-to-military exchanges during talks held at Bush's Crawford, Texas ranch back in October 2002.
Myers left Japan yesterday and had a stopover meeting in Mongolia before his arrival in Beijing, the third leg of his week-long trip that will also take him to Australia before he return home on Sunday.
During his visit in Beijing, Myers' delegation will become the first foreign delegation to visit the Beijing Space Centre, according to the embassy.
Before Myers's stop here, the highest-ranking US military officer to visit China in the Bush Administration was Admiral Thomas Fargo, commander of US Pacific Command, who visited China in December 2002.