Queen Mary 2 sets sail on maiden voyage
( 2004-01-13 13:31) (Agencies)
The world's largest cruise ship, Queen Mary 2, set sail for the United States on its maiden voyage, carrying 2,600 passengers.
The 150,000-ton Cunard Line vessel left the southern English port of Southampton on Monday for a 14-day journey to Fort Lauderdale, Florida. Some passengers paid up to $48,000 for the privilege.
Although Cunard has denied reports of a terrorist threat against the vessel, security was tight and police maintained a high profile.
The maiden departure, marked by fireworks and a brass band, was an hour late.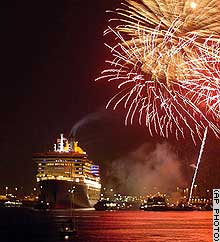 "There was significantly more baggage than we anticipated," Cunard Line president Pamela Conover said, explaining the delay.
As a small flotilla of boats turned out to watch the giant liner pull away, passengers lining the ship's balconies waved Union Jack flags and threw streamers.
Ceremonies welcoming the vessel to Southampton on December 26 were subdued out of respect for those killed when a gangway collapsed November 15 at the shipyard in St. Nazaire, France, where the ship was built.
Thousands of people watched last week as Queen Elizabeth II officially launched the $1 billion ship, which is named for her grandmother Queen Mary, wife of King George V, who reigned from 1910 to 1936.
The new cruise liner took more than five years to build. It is 1,138 feet long and 238 feet high -- as tall as a 21-story building. It will take over the trans-Atlantic duties of the Queen Elizabeth 2 ocean liner.
Its 2,600 passengers will have the run of six restaurants, five swimming pools, an art gallery and a movie theater that doubles as a planetarium.
Fares for Queen Mary 2's fully booked maiden voyage from Southampton to Fort Lauderdale, began at $4,400 per person for 14 nights and rose to $48,310.
Cunard Lines belongs to the U.S. company Carnival, but sails under the British flag.
The Queen Mary 2's reign as the world's biggest passenger ocean liner is expected to be brief.
Cruise operator Royal Caribbean Cruises Ltd. recently confirmed an order with Finland's Kvaerner Masa-Yards for the Ultra Voyager, which will accommodate 3,600 passengers and be bigger than the Queen Mary 2. The Ultra Voyager is expected to enter service in 2006.