World's largest cruise ship sets sail
( 2004-01-13 09:45) (Agencies)
The world's largest cruise ship, the $800 million Queen Mary 2, set off across the Atlantic on its maiden voyage on Monday.
Bathed in multicolored lights like a floating city, smoke winding out of its enormous stack, the QM2 drifted out of the English port of Southampton, bound on a 14-day journey to Fort Lauderdale, Florida.
As it left the harbor fireworks filled the night sky.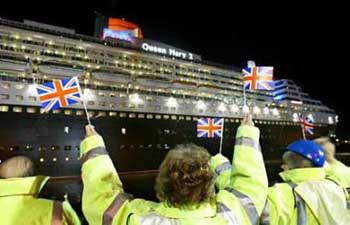 The Queen Mary 2, the largest cruise liner ever built, departs on its maiden voyage from Southampton, in southern England, January 12, 2004. The 150,000 ton Cunard liner left Southampton bound for Fort Lauderdale, Florida, on its first passenger voyage. [Reuters]


The send-off contrasted with a subdued launch from France three weeks ago, when festivities were canceled in honor of 15 people who fell to their deaths in November when a dockside gangway to the ship collapsed.

Bad luck continued to plague the ship after it arrived in Britain, when two women in their 60s broke their legs in separate incidents on board.

But it received a celebratory baptism from Queen Elizabeth at a pomp-filled naming ceremony last week.

The British-registered liner is 1,132 feet long -- the equivalent of 41 London double-decker buses -- and more than 236 feet high. It can take 2,620 passengers.

The vessel's 17 decks include five swimming-pools, sweeping staircases, a grand ballroom, a 360-degree promenade deck and a host of luxury shops.

The QM2 will be capable of crossing the North Atlantic at 30 knots.

Its operator Cunard Line, part of American cruise group Carnival Corp, said the maiden voyage sold out months ago. It hopes the ship will revive the mystique of ocean liners from the age before jets made travel across the Atlantic routine.

A one-way passage from Southampton to New York starts from $1,817 rising to $28,000 per head, plus a daily service charge.

The new ship took the crown for largest cruise liner from Royal Caribbean's 1,020 foot-long Liberia-registered "Voyager of the Seas," launched in 1999.

The first Queen Mary was launched at Southampton by the queen's grandmother -- Queen Mary, wife of King George V -- in 1934. The ship was retired in 1967 and is now docked permanently as a hotel in California.