Top US military officer kicks off China visit
( 2004-01-13 09:27) (chinadaily.com.cn/Agencies)
America's top military officer arrived in Beijing on Tuesday to kick off a 2-day high-profile visit in a sign of improving military ties between the two major world powers after a period of strain.
Air Force General Richard Myers, chairman of the Joint Chiefs of Staff, will meet Chinese military leaders as well as high-ranking government officials to discuss increasing military contacts, US defense officials said.
Myers arrived at the invitation of his Chinese coungterpart, the People's Liberation Army Chief of General Staff General Liang Guanglie. In his 2 days visit in Beijing, General Myers will hold meetings with General Liang, Chinese Defense Minister General Cao Gangchuan, Foreign Minister Li Zhaoxing, Central Military Commission Vice-Chairman General Guo Boxiong,the American Embassy in Beijing said in a news release on Tuesday.
Sources said Chinese President Hu Jintao, who is also a top leader of the army, will most probably hold talks with General Myers. In Beijing, U.S. officials said, Myers is expected to discuss North Korea, Taiwan and other issues.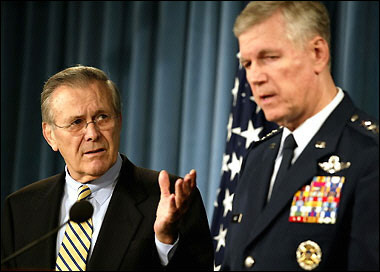 US Secretary of Defense Donald Rumsfeld (L) and Chairman of the Joint Chiefs of Staff, General Richard Myers (R). [Filephoto/Reuters]
In the press release, the embassy said General Myers' visit is an important step in a series of Chinese-US military activities, including high-level visits, confidence-building measures and professional exchanges. The purpose of these activities is to maintain and improve military-to-military relations by promoting dialogue and transparency.
U.S. defense officials said the Beijing visit was a sign of warming ties after a 2001 collision between a Chinese fighter jet and a U.S. Navy reconnaissance plane over South China Sea plunged military relations into a deep freeze.
Myers' visit is the first to China by the highest-ranking U.S. military officer since November 2000.
China's defense minister visited Washington in October and U.S. defense officials said at the time that the two countries planned to increase military exchanges at all levels in 2004.
Before flying to Beijing, Myers made the first visit to Mongolia by a chairman of the Joint Chiefs. US Defense officials said he would thank the Mongolians for sending a company of peacekeeping troops to Iraq.
US Defense Secretary Donald Rumsfeld has not visited China since he became secretary nearly three years ago.
When he visited Washington in October, Chinese Defense Minister Cao Gangchuan and Rumsfeld discussed a range of issues, including bilateral military relations and North Korea's nuclear ambitions.
Cao, who also met with Myers, became the first Chinese defense chief to visit the Pentagon since 1996.