Reformists say hard-liners damaging Iran's image
( 2004-01-13 08:49) (Agencies)
Iranian reformists led by President Mohammad Khatami accused hard-liners on Monday of making the Islamic Republic look despotic by barring thousands of liberal-minded candidates from a national election.
But senior officials said a compromise was possible over the bans by the Guardian Council, an unelected constitutional watchdog, as Washington demanded the Iranian government should ensure the February 20 parliamentary poll was free and fair.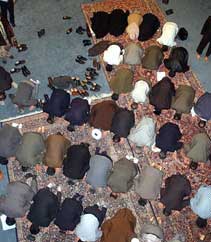 Reformist lawmakers pray during their sit-in protest inside parliament. [AP]

"(The conservatives) are paving the way for enemies who want to show the Islamic Republic is a despotic state," said a statement from Khatami's pro-reform League of Combatant Clerics, carried by the official IRNA news agency.

Supreme Leader Ayatollah Ali Khamenei, who has the last word on all state matters, said he would intervene only if the conservatives and reformists reached an impasse.

"If the issue goes beyond legal methods and gets to a sensitive point which demands the leader's decision, we will act based on our responsibility," Khamenei said on state radio.

Reformists, who won control of parliament in a 2000 election for the first time since the 1979 Islamic revolution, are fighting for survival after the Guardian Council blocked thousands of Khatami's allies from running in next month's poll.

All of Iran's provincial governors have joined senior parliamentarians and government members threatening to resign over the bans. About 100 reformist deputies spent a second night sleeping on carpets in parliament in a sit-in protest.

"We will not let the desires of a few turn the will of the nation," said one demonstrating deputy, Ali Shakourirad.

TEST OF PATIENCE

The election is considered by many Iranians as a test of popular patience with what they see as a toothless reform movement. Many young people say they will abstain in protest at the lack of social and economic reforms.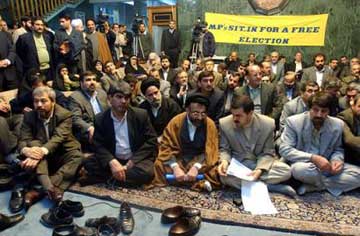 Iranian Interior Minister Abdulvahhab Musavie Lari, first row center with black turban, attends with governors a reformist lawmakers sit-in protest, after they were disqualified by hard-liners to run in the February legislative elections at Iran's Parliament building in Tehran , Iran on Monday, Jan. 12, 2004. [AP]


Leading reformists called on students, often in the vanguard of Iran's political struggles, to join the fight.

"Forget it," said one young woman in Tehran. "They just care about their salaries."

Only about half of the 8,200 aspiring candidates were approved to stand. Those disqualified include 80 members of the 290-seat parliament.

Khatami and Parliament Speaker Mehdi Karroubi are taking the case direct to the 12-member Guardian Council.

Karroubi said he thought a deal could be struck and urged deputies to trust in the law.

Be careful not to foment tension," he said.

The State Department said Washington was opposed to any interference in the electoral process.

"We call upon the Iranian government to disavow attempts by the Guardian Council to shape the outcome," said State Department spokesman Adam Ereli.

We would note that a government's handling of the electoral process is one of the fundamental measurements of its credibility... (We've) made clear on numerous occasions that it's important that the voice of the people be heard in Iran."

European Union foreign policy chief Javier Solana, visiting Tehran, said the vetoes on candidates would be hard to explain to the EU.

"The fairness of an election is not only (a matter) for election day," he said.

Iran's leading clerical dissident, Grand Ayatollah Hossein Ali Montazeri, condemned the Guardian Council which he played a role in creating when he helped draft the constitution.

"I am really sad when I see this Guardian Council has been transformed into a body that violates the nation's rights and disqualifies these people," he said in a letter to a meeting of the biggest reform party.

Disqualified candidates have two chances to appeal to the Guardian Council before a final list of candidates is published for a week-long election campaign starting on February 12.