Fare well, Anita Mui, legend for ages
( 2004-01-13 00:36) (China Daily)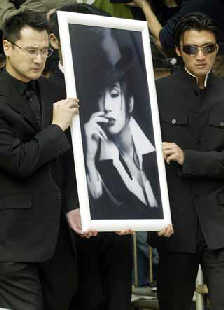 Hong Kong star Nicholas Tse (right) and an unidentified cousin of the late entertainer Anita Mui carry her portrait after she was cremated at Cape Colison crematorium in Hong Kong January 12, 2003. [Reuters]

Anita Mui was more than a singer and actress. She was a legend and a force of nature.

In a time when pop stars seem to be manufactured on an assembly line, she demonstrated remarkable versatility, singing, dancing and acting. Her sultry voice was able to convey myriad nuances, making her equally at home with power ballads of the old days or the latest dance hits.

On screen, she played a range of roles, from high comedy to low-profile housewife.

Fleur, the role from the 1987 film Rouge that won her most critical acclaim, is a courtesan in 1930s who kills herself out of love and becomes a ghost awaiting her beau in vain.

In a career that spanned over 20 years, Mui recorded 46 albums and starred in some 40 movies. But her most captivating performances were on stage. She held a total of 147 solo concerts in Hong Kong's Hung Hom Stadium, one of the highest number of shows at such a large venue.

Mui was known for her constant change of persona. She was the consummate artist, offering up lavish costumes and imaginative concepts in her shows, giving her all to her audiences.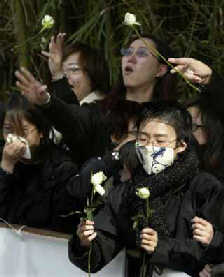 Mourning fans throw white roses during funeral of Cantopop diva Anita Mui at a crematorium in Hong Kong January 12, 2004. [Reuters]

Her last concerts were in November, less than two months before her death.

Born on October 10, 1963, Anita Mui Yim Fong started singing at five to help make ends meet for her family. Her career took off in 1982 after she won a talent contest. She quickly became Hong Kong's prima donna and dominated the entertainment scene for the entire decade of the '80s.

Mui will be remembered for her strong personality, fierce loyalty, altruism and sense of justice, and for personifying female chivalry in the tradition of Chinese martial arts books or films.

She was loyal to those around her and ready to help the less fortunate, organizing charity concerts for families of SARS victims when she herself was suffering a terminal illness.
Mui died of cervical cancer on December 30, 2003. She was 40.
The funeral took place in Hong Kong yesterday, and included decorations with a Buddhist adage: "Towards the life of Nirvana."
Thousands showed up to pay respects, including film star Jackie Chan and many entertainment luminaries.
Despite her chameleon-like qualities, there is a timelessness about Anita Mui.
She belongs to the ages.