Another suspected SARS case reported
( 2004-01-13 00:34) (China Daily By Zhang Feng)
China Monday officially confirmed its third suspected SARS case this year in Guangzhou.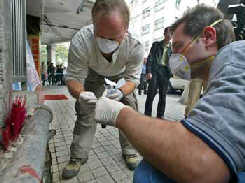 Two experts from the World Health Organization collect specimens a wildlife restaurant in Guangzhou, South China's Guangdong Province January 10, 2003 in a bid to trace the origin of the SARS virus. A waitress who worked at the restaurant is the second suspected SARS case this winter last week. [newsphoto]

Meanwhile a widely reported fourth suspected case in Shenzhen turned out to be a bacterium infection, not SARS.

The third suspected case in the Chinese mainland was reported Monday morning by local doctors.

A 35-year-old self-employed businessman had some SARS symptoms on December 31, 2003. He was isolated in a hospital on January 6.

Some 28 people he had contact with were put under medical observation. None have shown any SARS symptoms.

Further epidemiologic investigation and lab tests are being conducted to see whether the man does, in fact, have SARS, said Mao Qun'an, spokesman of the Ministry of Health.

No further details on the man, such as what business he is in and whether he has recently travelled, were released, Mao said.

This year's only confirmed SARS case also surfaced in Guangzhou.A second suspected case, that of a 20-year-old woman, has not been confirmed.

Shenzhen patient

Meanwhile, Chinese-language news media in Hong Kong reported Monday morning that a fourth case had just been discovered in Shenzhen, on Hong Kong's border.

However, Phoenix TV in Hong Kong quoted the Shenzhen health authority as saying the male patient is suffering from a common form of typical pneumonia.

"The Ministry of Health has not received any report about the case in Shenzhen, but it would not be surprising that some people are revealed by non-official channels as suspected SARS cases in the coming days," Mao told China Daily yesterday.

China has a standard diagnosis for suspected SARS cases.

Health authorities only report cases confirmed as a suspected SARS, instead of reporting those people who just have some symptoms and are put under further medical observation, Mao said.

Still, Mao added that health workers such as doctors or other hospital employees may talk to the media directly regardless of official confirmation.

Moreover, since the first SARS case this year, the Ministry of Health has asked its branches at various levels, especially Guangdong, to strengthen the SARS epidemic surveillance.

Many people, especially those with common colds, may be regarded as suspected SARS cases by hospitals pending further medical observation, noted Mao.

In Guangzhou, the joint mission between WHO and the Ministry of Health is investigating all possible sources of SARS infection, including animals, humans or the environment, Bob Dietz, spokesman of World Health Organization(WHO), told China Daily.

Scientists still don't know how the three people, as well as the hundreds of cases last year, have been infected.

The mission has investigated the apartment of the first confirmed SARS case on Sunday trying to find a link between his infection and his living environment.

Some samples of a rat caught in the apartment shows positive affect to a SARS virus test.

The confirmed case had some contact with rats before he was hospitalized.

Up to now, Chinese scientists have found the SARS virus from samples of some animals including masked palm civets, raccoon dogs and badgers, Liu Qiyong, an epidemic sources expert from the Chinese Centre for Disease Control and Prevention, said Monday.