China-US textile talks kick off
( 2004-01-12 14:43) (China Daily by Dai Yan)
China and United States are set to start consultations Monday about new measures on three Chinese textiles products.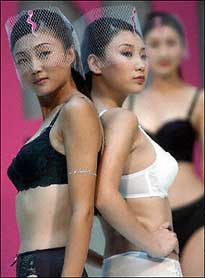 Chinese designed undergarments at a lingerie show in Beijing. A US delegation was to start talks with China over a trade rift sparked by Washington's decision to impose quotas on Chinese textile exports. [AFP]

The US Committee for the Implementation of Textile Agreements (CITA) decided on November 18 to set quotas on Chinese imports of knit fabric, dressing gowns and bras.

Details of the imposed quota will be decided after the negotiations.

"The US group arrived in Beijing yesterday and the consultation will begin Monday," sources said yesterday.

The consultations will focus on specific quotas, export licensing and bilateral electronic data inspection on the three products.

"The US side has asked us to impose licensing management and electronic data inspection beginning January 23, which we cannot bear," sources said.

"In China's agreement to the World Trade Organization (WTO), we did not permit such two methods, which were used before China's WTO entry,'' he said.

The bilateral electronic data inspection requires China to deliver daily reports on new licences to the US administration for inspection.

The sources said Chinese representatives will refuse the US proposition and question the legitimacy of the US decision to initiate such safeguard.

The Bush administration formally requested consultations with China on December 23.

Upon request, China has to restrict its shipments of the three products to a level no greater than 7.5 per cent above the amount that entered the United States during the first 12 months of the most recent 14 months preceding the request.

Information on customs clearance of the three products has been published on the website of the Ministry of Commerce.

Exporters can check the data and limit their exports, he said.

According to China's WTO commitments, consultations with China will begin within 30 days of notification of the request and the two countries have 90 days to reach a resolution.

If the two sides fail to reach a resolution, the United States can unilaterally impose quotas for one year, limiting growth of China's exports in those areas to 7.5 per cent.

Cao Xinyu, vice-chairman of the China Chamber of Commerce for Import and Export of Textiles, expected the US side to be reasonable.

"They should note that China and United States textile industries have good co-operation and many of the three products are exported by US-invested companies,'' Cao said.

"I have met many delegations from some US associations of retailers and States who asked to find local manufacturers in China, but the US move makes co-operation more difficult,'' Cao said.

China is also one of the few destinations in the world where the United States sees surging textile exports, he added.

The Bush administration recently filed many protective measures on Chinese products including textile, colour TV sets and furnitures with the coming election.

It is also under pressure to take action against China because of a huge trade surplus.

But China has moved towards balancing trade.

Another purchasing group will head to United States next week to buy information technology products valued about US$2 billion, according to a report by Phoenix TV.

Chinese delegations already had shopping sprees in the United States, with items including planes, automobile, soybeans, fertilizers and alumina and total values about US$9.1 billion.