Latam nations resist US at regional summit
( 2004-01-12 09:14) (Agencies)
Latin American nations resisted U.S. efforts on Sunday to push trade issues and tough sanctions against corrupt governments center stage at a regional summit this week.
U.S. officials want leaders throughout the Americas to commit to reaching a 34-nation free trade pact by January 2005, and they are proposing that the most corrupt governments face possible exclusion from regional meetings.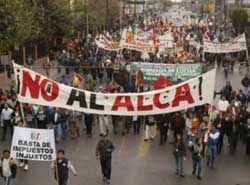 Hundreds of Mexican workers march as they take part in an anti-American and free trade protest as leaders arrive for the Summit of the Americas in Monterrey, Mexico January 11, 2004. [Reuters]

But several Latin American nations, worried about strong U.S. influence in the region, were blocking the proposals.

They insisted the two-day Summit of the Americas, which starts on Monday in Mexico's northern city of Monterrey, stick to the issues it was originally called to discuss -- poverty, economic and social development and democracy.

"There's a lot of opposition," a senior Latin American delegate said on Sunday. "The summit is about reducing poverty and strengthening democracy. We shouldn't allow it to lose that focus."

Brazil led the opposition to making trade talks a central part of the summit agenda and several nations, while backing anti-corruption measures, criticized the U.S. proposal aimed at punishing the region's most corrupt governments.

"The U.S. proposal is not clear, because who will decide which government is corrupt? We think there would be a risk that this mechanism could be used as political retaliation against any government," Jorge Valero, Venezuela's ambassador to the Organization of American States, told Reuters.

Negotiations continued throughout Sunday in the search for an agreement before the region's presidents meet on Monday.

Assertive new leaders in Latin America are increasingly questioning U.S. leadership of the Western Hemisphere, saying the economic policies pushed by Washington have failed to generate growth and done even less to ease poverty levels.

There is also widespread concern over the Bush administration's aggressive foreign policy and security measures, especially the recent decision to fingerprint and photograph foreign visitors. Brazil responded by doing the same to all U.S. visitors landing at its airports.

The leftist governments in Brazil and Argentina are openly critical of Washington's security and trade policies, while Venezuela's fiery President Hugo Chavez has repeatedly clashed with senior U.S. officials.

Before traveling to Mexico, Chavez accused Washington this weekend of "sticking its nose" in Venezuela's affairs and plotting a coup or assassination should his domestic opponents fail to win a referendum vote against him this year.

U.S. President Bush hopes to win over his critics in the region at this week's summit and get their support for tighter regional measures against terrorist threats.

He won some points last week by announcing a new immigration reform plan that would give millions of illegal immigrants, most of them Mexican, a chance to gain legal status for at least three years under a temporary worker program.

Mexican President Vicente Fox has backed the proposals while saying he will continue pushing for more ambitious steps ultimately leading to open borders between Mexico, the United States and Canada.