British woman complete S. Pole solo trek
( 2004-01-12 09:03) (Agencies)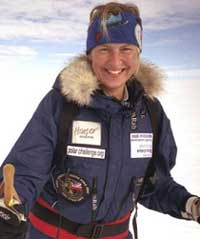 Fiona Thornewill, 37, of Nottinghamshire, England, is shown in this Nov. 30, 2003, file photo, at the start of her 725 mile trek from Herecules Inlet, at the edge of the Antarctic continent, to the South Pole. [AP]

A British woman has completed her unaided solo hike to the South Pole in record time, organizers said Sunday.

Fiona Thornewill, 37, arrived at the pole on Saturday, having walked 700 miles in 42 days. Her expedition team said that meant she has broken the previous record of 44 days for an unaided individual or team for walking or skiing.

Thornewill told her family she battled fierce winds, poor visibility and rough terrain on the last day of her long trek.

"She's elated, really emotional. She can't believe she's done it," said her father-in-law, Roger Allton.

Thornewill is the first British woman to walk solo and unaided to the South Pole.

She began the challenge at Hercules Inlet, at the edge of Antarctica, and hauled a 285-pound sled packed with food, fuel and equipment.

Thornewill has set up camp outside the U.S. base at the South Pole to wait for her husband Mike, a police officer, who is accompanying a team on a separate trek to the Pole.

The first woman to complete the solo, unaided trek was Norwegian Liv Arnesen, who finished in 50 days in 1994. The previous 44-day record was held by a team of Koreans.