Fugitive Karadzic, possibly injured, slips NATO net
( 2004-01-12 08:51) (Agencies)
NATO troops Sunday scaled down a major weekend hunt for top Bosnian Serb war crimes suspect Radovan Karadzic, triggered by a tip that injury may have forced him to seek help in his old headquarters town.
If Karadzic had indeed been there, he appeared to have once again slipped the net. By nightfall, only an ex-paramilitary policeman said to be "a supporter" had been detained, outside a nearby ski-resort hotel.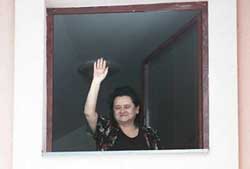 Ljiljana Zelen Karadzic, wife of Bosnian Serb war crimes suspect Radovan Karadzic, protests from a window as NATO troops raid her house in Pale, southeast of Sarajevo, January 11, 2004. [Reuters]

"They have been looking for my husband in the walls, in every inch of the house and, how absurd, in the septic tank," said the former leader's wife Ljiljana. "They seem to believe Radovan would hide like Saddam Hussein."

The "short-notice" manhunt began in a snowstorm Saturday, as 200 troops and police fanned out in the town of Pale to search hospital and church buildings from top to bottom, looking under beds, in cupboards and even the church bell-tower.

Karadzic's onetime fief sits in the mountains above the Bosnian capital, Sarajevo, whose bloody 1992-95 siege earned him his first United Nations indictment for genocide.

The NATO-led Stabilisation Force (SFOR) said it was acting on reliable information that Karadzic had contacted his family and supporters, and might be injured.

The search, which included local Bosnian Serb police, was the "single biggest joint operation we have conducted in 18 months" SFOR Captain Mathew Brock told reporters.

"Mr. Karadzic has not been located," he said. But ammunition and documents found in his wife's house could be "very useful in determining his whereabouts," Brock told Reuters.

He said SFOR would maintain a presence in Pale overnight and probably end the operation by noon Monday.

Karadzic and his military chief Ratko Mladic are both also indicted for genocide in the 1995 massacre of up to 8,000 Muslims in Srebrenica.

TANTALISING IDEA

Informants are offered a five million dollar reward for the capture of Karadzic, one of the world's most elusive fugitives. The prospect of injury or illness forcing him to surrender would be tantalizing for NATO, which has sought him for eight years.

His arrest, like that of the toppled Iraqi dictator pulled from a "spider hole" last month, would also be a dramatic milestone for Bosnia, still poisoned by bitterness from the ethnic war that took over 200,000 lives between 1992 and 1995.

Some Serbs, however, regard Karadzic and Mladic as national heroes and would hate to see either man in handcuffs.

Pale's Orthodox priest Jeremija Starovlah was quoted by the Bosnian Serb news agency SRNA as saying troops searched the local church and church buildings at midnight.

"They opened wardrobes, looked under beds, tapped on walls and floors and looked into the bell tower," he said.

Saturday and overnight, SFOR troops searched four medical facilities, including two belonging to the Karadzic family.

Karadzic's daughter, Sonja, protested that she and her family had been kept as "hostages" by SFOR.

"We are embittered by the behavior of the soldiers. We feel like hostages... This is a violation of human rights," she told Reuters by telephone from the house, after British and U.S. soldiers entered and Slovenian troops and Italian carabinieri were deployed around it.

SFOR conducted several operations last year targeting Karadzic and Mladic but failed to find either. Karadzic is believed to hide in eastern Bosnia and neighboring Montenegro and Mladic is usually said to be holed up in Serbia.