Tragedy of errors in gas blowout
( 2004-01-12 08:01) (China Daily)
The 10-year-old boy leans against a bed at home, his face serene, seemingly in deep sleep. But the tranquil scene in the photograph hides a deep tragedy: He is among the more than 200 people killed in Kaixian County, Southwest China's Chongqing Municipality last month.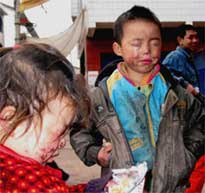 Two children, whose eyes were harmed by the toxic fumes from the fatal gas blowout, are seen in Chongqing.. [Filephoto/Xinhua]

On the night of December 23, a natural-gas well blowout in the area got out of control, its high concentration of deadly hydrogen sulphide killing 243 people, mostly villagers, in their sleep or as they tried to flee the toxic fumes.

In the following days, some 4,000 people were hospitalized and more than 60,000 displaced.

Five days of investigations conducted by a specialists group yielded the conclusion that it was a grave accident caused by workplace negligence of Eastern Sichuan Drilling Company under the China National Petroleum Corporation (CNPC), announced Vice-Director of the State Administration for Safe Production Supervision Sun Huashan on January 2.

"Had workers been vigilant and detected signs of a forthcoming accident in time, had they strictly observed the operating rules and not torn down a necessary blowout prevention valve, or if they had ignited the blowout gas quickly enough, far fewer people would have lost their lives,'' Sun said.

And the public have some questions: How was this negligence possible at a State-owned oil giant boasting world-class gas production technology" Why did only two gas-well workers die while so many innocent farmers perished" Why was the gas well built at a place so near to homes" Why had almost nobody ever been informed of the lurking danger" Will similar tragedies occur again at gas wells and claim many more lives"

What went wrong"

The culprit gas well, known as Luojia 16, is located in the mountainous areas in Chongqing, which used to be under the jurisdiction of Sichuan Province, where natural gas production recorded 10 billion cubic metres last year, accounting for 31 per cent of the country's total.

Industry experts say gas blowouts are common in natural-gas production, especially in the earlier phases, when workers have to drill thousands of metres deep through unpredictable strata.

But seldom does a blowout go out of control, as control technologies nowadays are quite advanced.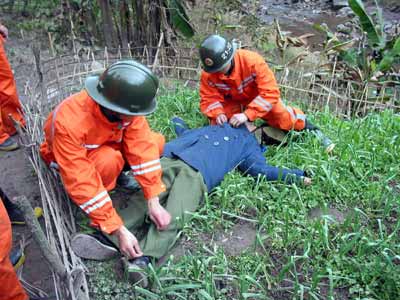 Firemen tidy up the clothes of a man who died at the explosion of a nautral gas field in Kaixian county. [Filephoto/Reuters]
"Sichuan Province has the best equipment and technicians in the country, and the expert team sent to Kuwait to put out oil well fires after the first Gulf War was composed mainly of personnel from Sichuan,'' says Gao Deli, a professor with the University of Petroleum in Beijing.
But now the technicians from Sichuan were found to have failed to fix a blowout-prevention valve on the drilling post, which is the "most basic safety measure''.
Tang Zhenghua, an adviser with the experts committee of China International Engineering Consulting Co, said he could not understand how a gas well which did not meet the least standards could get production permits and pass repeated inspections.
Even if a blowout occurred and went out of control, the workers could have reduced the harm to the minimum by igniting the gas, which becomes innocuous water and sulphur after burning, said Tang.
In fact, the gas was not ignited until 18 hours later, when the invisible demon had already wreaked widespread havoc.
Another intolerable mistake is that the gas-well workers did not inform the local governments during the first minutes " the best time for rescue efforts " of the blowout.
There were more than 20 workers on duty that night. But villagers later told Outlook Oriental Weekly, a Shanghai-based magazine, that five of them ran to a nearby villager's home after the accident.
The workers stayed there, huddled around a fireplace, till the next morning when they and the home owner felt dizzy, and ran to a village 10 kilometres away.
The blowout began at 9:55 pm on December 23, but the county government of Kaixian said it didn't receive the first telephone call from the drilling team until one-and-half hours later.
Kaixian's work safety bureau did not know of the accident until it got a call from the higher-level authority, the Municipal Work Safety Bureau of Chongqing.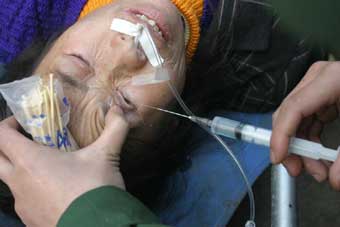 A poisoned villager receives emergency treatment. Many of the poisoned villagers suffer from optic injuries due to the toxic gas. [newsphoto.com.cn]

Even the township government of Gaoqiao, which is only 1 kilometre away from the gas well, was not told about the accident until after 11 pm.

According to the work-safety regulation of Chongqing, central government-owned or municipal enterprises are under the supervision of the Chongqing Municipal Work Safety Bureau.

"Although the gas well is located in Kaixian, the county work safety authority never had a say on its production,'' says Xiao Wancheng, deputy director of Kaixian's work safety bureau.

When accidents occur, the gas-well operators usually report to their superiors, such as Eastern Sichuan Drilling Co, Sichuan Provincial Petroleum Administration or the Chongqing municipal government.

What the local governments of Kaixian and Gaoqiao got was second-hand information; and the best time for rescue was wasted, says Xiao.

Even after the local government got the information, many villagers could not be informed of the danger as the officials and rescuers had no protective masks to enter the danger zone.

Even worse, most farmers could not afford to install a telephone at home, and the villages had no loudspeakers that used to be common in rural areas " where households are scattered across vast areas " to broadcast news or warn them of dangers.

Devastation

Most villagers living near the gas well realized something was wrong and began to flee only after they saw their livestock fall, themselves feeling sick and weak,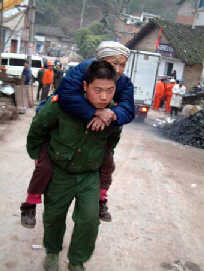 An Armed Police Force soldier carries an elder villager on his back during the evacuation December 24. [newsphoto.com.cn]

and smelling something like "rotten eggs''.

Villager Tang Xiaoying told CCTV that her family of 13, living in a house 200 metres away from the gas well, heard a big noise of a blast and then a quake "as if a mountain collapsed''.

Instinctively, the 31-year-old teacher of Xiaoyang Village Primary School woke up her family and urged them to dress up and run for their lives.

The family walked about 15 minutes to the primary school a few ridges away, where the stench was less powerful.

After waiting in the cold for two hours, five family members left for home when seeing no apparent danger. Four of them never came back except Tang's father-in-law, who crept to the school after seeing his cattle foaming and people falling along vegetable fields.

The panicked people in the school did not survive except Tang, her mother-in-law, and her nephew, who were found by an ambulance three hours later. Her twin daughters and the rest of the family were already dead.

The village of Xiaoyang and nearby Gaowang were the hardest hit. Many families died together at home.

Drilling on Luojia 16, one of a number of gas wells developed in the rural areas of Kaixian County, started May 23 last year. Drilling on the first one, Luojia 14, began in 1999.

The developers are aware that the natural gas in these areas contains a high concentration of poisonous sulfphurated hydrogen; but the villagers were barely aware.

"I've seen the drilling company working on the site in our village for five years, but nobody ever told me what benefit it would bring, or what danger it poses,'' says Zhou Ke'an, Party secretary of Xiaoyang Village.

Safety system urged

Experts are calling for the establishment of a complete supervision system of safe production, which would require that enterprises be responsible not only for themselves, but also for the public and environment safety.

"Existing workplace safety stresses mainly on the enterprises" own workers,'' says Zhou Xinquan, dean of China University of Mining and Technology.

"But industry safety has become more and more related with public safety, especially in thickly populated areas.''

Zhou says a precautionary safety assessment and a complete set of contingency measures are very important for an enterprise to ensure the nearby residents" safety.

The contingency schemes must spell out possible dangers and counter-measures, which should be informed to local governments, so that they are not caught on the wrong foot once an accident occurs, Zhou says.

According to industry standards, a high-risk gas well like Luojia 16 should not have had residents in an area of at least 1 kilometre in diameter.

But in this case, the nearest home was only 20 to 30 metres away.

Some 10 days before the accident, when an official of Sichuan Petroleum Administration was asked why they did not tell the residents about possible dangers, the official was quoted in China Newsweek as asking: "Will they allow us to drill a gas well if they know that" ''

The oil company was also not subject to an official environmental and safety assessment before operation, which would normally cost 2-3 million yuan (US$240,000-US$360,000) " in the context of the fortune underground, it is not a big amount.

The gas company in Kaixian handed in 38 million yuan (US$4.6 million) just in taxes each year.

It is ironic that China National Petroleum Corporation had introduced an international safety management system " known as HSE " not long before the accident.

The oil giant also has its own environment protection measures, which stress timely reports to possible victims of major harmful accidents.

But these were apparently not implemented at the Kaixian accident.

"We must consider human life, instead of money, a priority,'' says Luo Yun, a work-safety expert with China University of Geoscience.

Epilogue

The 60,000 evacuated villagers, including most of those hospitalized, have gone back home now.

People have resumed farm work, or are discussing furnishing their houses to celebrate the Chinese Lunar New Year, which falls on January 22.

The family members who have survived have received an average of 140,000 yuan (US$16,900) for each deceased victim as compensation from the oil company.

They have also got compensation for lost property and livestock.

The money is a fabulous sum for the poor farmers but at a terrible cost of 243 lives, including 30 primary school students aged between 7 and 12.