New quake teams set to speed up rescues
( 2004-01-12 08:01) (China Daily by Zhao Huanxin)
Earthquake-prone China is stepping up the establishment of emergency rescue teams across the nation in an effort to save lives during temblors, a leading official of the China Seismological Bureau said yesterday.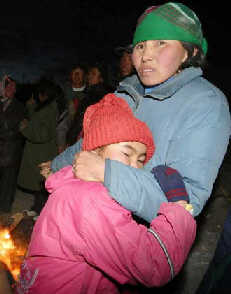 A girl embraces her mother in the quake-hit Zhaosu County, orthwest China's Xinjiang Uygur Autonomous Region December 1, 2003. The quake, measuring 6.1 on the Richter scale, killed 11 people and left more than 1,000 people homeless [Filephoto/Xinhua]

"We have launched six provincial search-and-rescue squads and are close to creating two regional branches directly under the national team in Southwest and Northwest China,'' Xu Deshi, director of the bureau's earthquake disaster emergency response department, said in Beijing.

China is in dire need of more local rescue and relief teams in addition to a Beijing-based national team, given the country's vast area, Xu told China Daily.

Historically, it has withstood many earthquakes, including 27 quakes measuring 5.0 or above on the Richter scale in 2003 alone.

That compares with nine that jolted the Chinese mainland in 2002, the worst since 1996, according to the latest bureau statistics.

The 2003 tremors killed 319 people, injuring 7,147 others, and affected the lives of 2.98 million people while causing 4.46 billion yuan (US$537.34 million) in damage, said Li Qianghua, spokesman of the bureau.

In light of the crucial role rescue teams can play in saving lives and rendering humanitarian services following natural disasters, governments at various levels are ardent about putting such teams in place, Xu said.

"With six provincial teams in Tianjin, Heilongjiang, Liaoning, Gansu, Sichuan and Yunnan, a dozen of other provinces and autonomous regions are in the process of launching their own squads,'' Xu said.

In addition, emergency search-and-rescue teams formed by volunteers have been established in Shanxi, Fujian provinces and Ningxia Hui Autonomous Region, he said.

Xu said he hopes such teams will proliferate throughout China.

The China National Earthquake Disaster Emergency Search-and-Rescue Team, which was set up in April 2001, will provide training to such local groups, said Xu, who is the team leader.

The 221-member national contingent consists of a military engineering unit, seismologists and medical staff, all of whom are equipped with advanced tools for searches and rescues, medical treatment, as well as canine teams, he said.

Victims of a strong earthquake that destroyed their house take a nap on haystack in Shandan County, Northwest China's Gansu Province Sunday, Oct. 26, 2003. Twin powerful earthquakes hit remote northwestern China Saturday, killing at least nine people and leaving thousands homeless. [Filephoto/Xinhua]
In particular, the national seismological bureau is pushing for the early formation of two branches in southwest and northwest China, areas vulnerable to tremors, he said.
The official said his bureau has reached consensus with the military for earlier launch times for regional teams in western parts of China.
The only problem at present is funding, he said, giving no specific timetable for improving fiscal issues.
The scale of the regional and provincial teams will each encompass 120 to 140 members, he said.
Apart from rescue missions within the country, the China team also actively participates in on-site operations abroad, said Xu.
China joined the International Search-and-Rescue Group (INSARAG) in 2001, and has trained its national team in the Netherlands, Switzerland and Singapore, according to Xu.
The national team just returned from a mission in Bam, Iran, where a devastating earthquake measuring 7.0 on the Richter scale on December 26 killed more than 30,000 people.
The 38-member team was among the first to Bam. They had found and dug out more than 20 bodies.