Palestinians insist on right to declare state
( 2004-01-11 09:45) (Agencies)
A top Palestinian decision-making body voiced its right on Saturday to declare a state unilaterally in the West Bank and Gaza after Israel threatened to take stand-alone measures of its own.
The executive committee of the Palestine Liberation Organization (PLO) also named Arab East Jerusalem, seized by Israel in 1967 and annexed in a move rejected internationally, as the capital of a Palestinian state.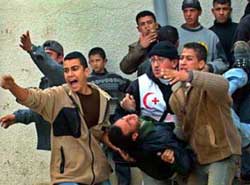 Palestinians carry an injured youth shot by an Israeli soldier during clashes in the Balata refugees camp near the West bank city of Nablus January 10, 2004. [Reuters]

"The Palestinian leadership, in line with international legitimacy and signed agreements...has the right to declare an independent democratic Palestine on all the territories that were occupied (by Israel) since 1967," said a statement released after a Friday meeting.

Israeli Prime Minister Ariel Sharon has warned he would pursue unilateral steps to quit parts of the West Bank should a U.S.-backed "road map" to peace collapse, leaving Palestinians with less territory than they would get through negotiations.

Responding to Sharon's threats, Palestinian Prime Minister Ahmed Qurie raised the possibility on Thursday of opting for one state with equal rights for Palestinians and Israelis.

Qurie's proposal and the PLO Executive Committee statement underscored Palestinian concerns over Sharon's unilateral plan.

VIOLATION OF "ROAD MAP"

Zalman Shoval, Sharon's foreign policy adviser, said on Saturday the declaration of a state without an accord "would be in clear violation not only of international law, but also of the road map, which the Palestinians have supposedly accepted."

"Any unilateral declaration of this sort would not be recognized by the international community and would also necessitate appropriate counter steps by Israel," he told Reuters.

PLO executive committee member Qais Abu Layla said that the Palestinian statement did not necessarily mean Palestinians would exercise their right to declare a state.

Negotiations Minister Saeb Erekat said Qurie's binational proposal was in response to Israeli activities that were "burying" the two-state possibility.

But he added: "We are committed to a two-state solution."

Erekat pointed to Israel's construction of a mass barrier that cuts into the West Bank, absorbing some Jewish settlements and swathes of land, and continued building in Jewish settlements.

Palestinians call the barrier a land grab and a ploy to evade the road map that calls for a Palestinian state in the West Bank and Gaza beside a secure Israel by 2005.

Israel says the barrier is necessary to keep out suicide bombers, who have killed scores of Israelis since the outbreak of violence three years ago.

Shoval called "utterly ridiculous" Qurie's comments that the accelerated construction of the barrier and other unilateral Israeli steps could force Palestinians to go for a one-state solution.

"The Jewish people didn't recreate their state in order to have a binational state with the Arabs," Shoval said.