More use Web for private buys
( 2004-01-10 16:48) (eastday.com)
Judging from empty aisles in stores that sell sexual health products, you'd think Chinese people had no interest in sex - or at least far less than their uninhibited counterparts in the West. Such a conclusion, however, would be wrong.
The fact is that the Chinese appetite for sex is as voracious as any other culture's. It's just that in China people are discrete when it comes to purchasing sexual products.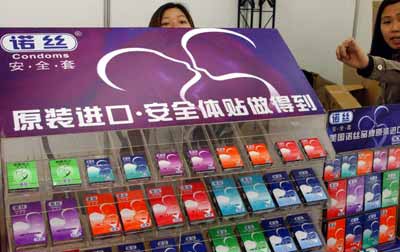 A sexual culture festival in Guangzhou [filephoto/newsphoto]
The Internet is enabling millions in China to view or buy a variety of interesting sexual products that they would otherwise feel embarrassed to purchase in a street corner shop.
Eachnet.com, China's equivalent to ebay.com, lists 6,747 kinds of sex toys.
Industry insiders said the Shanghai-based auction Website has become China's largest online sex health products market.
An EachNet's representative declined to reveal the amount of revenue his company generates in sex products sales, but he said its annual growth rate is over 50 percent.
Joyo.com, China's largest business-to-consumer Website, also sells sex health products.
"I think the Internet is a suitable platform to sell such products because Chinese people think it is a personal affair and they don't like to purchase such things in public," said an unidentified official at EachNet.com Network Information Services Co Ltd.
Ju Huaizhong, owner of an online shop called Sex Paradise, said the shop's revenue was 20,000 yuan per month, with a net profit of 8,000 yuan.
In contrast, traditional sex shops in China have had lackluster sales.
For 45 minutes in yesterday afternoon, about 1,500 people walked past Shanghai Huaguang Sex Health Products Shop, located at the intersection of Shaanxi Road and Julu Road. Only one person entered the 20-square-meter shop, which displays 300 sex health products.
The customer left empty-handed.
Both the shop assistant and the customer were unwilling to discuss what they called a sensitive subject.
In contrast, the online sex products business is a booming industry.
"We provide customers after-sales service and we give them a receipt, just like traditional sellers in supermarkets," said Ju.
According to Liu Dalin, director of the city's Reproduction and Sex Culture Center, sex has long been suppressed in China. The result is that few are bold enough to shop in public for kinky items.
"Because of feudalistic influences, sex has been suppressed in China for more than 1,000 years," Liu told Shanghai Daily yesterday.
"Such a long history will influence Chinese people for generations," he added.
But as China adopted its opening-up policy more than 20 years ago, modern Chinese have become more and more liberated and unprejudiced toward sex.
"Chinese people have remarkably improved their living conditions," said Liu. "Thus, they are naturally raising their expectations for their sex lives."
So just what kinds of items are the Chinese buying to enhance their sex lives? We may never know, as few are willing to answer such a question in public at this stage.