US terror alert level lowered to yellow
( 2004-01-10 10:20) (Agencies)
The possibility of a terrorist attack has diminished enough to reduce the nation's terror alert, US Homeland Security Secretary Tom Ridge said Friday, but he warned the threat was not over.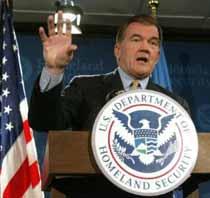 Tom Ridge gestures during a news conference in Washington, Jan. 9, 2004 where he announced that the Bush administration lowered the national terror warning level. [AP]

"Critical resources and locales" will remain on heightened alert, and there still is concern about al-Qaida's interest in using commercial planes to mount an attack, Ridge said.

Certain airports as well as the cities of New York, Washington and Los Angeles will continue to have increased security, said a Homeland Security official who spoke on condition of anonymity. A few of the many hundreds of dams, bridges and chemical plants that received heightened protection during the higher alert will continue to be treated with extra vigilance, the official said.

Ridge said that after a careful review of intelligence the threat level was taken down a notch to yellow, or "elevated," the midpoint on the government's five color-coded scale. It had been at orange, or "high," since Dec. 21.

"We are still concerned about continued threats, but the threat conditions that we've been following have diminished," he said at a news conference.

He declined to offer specifics. An intelligence official said separately that certain extremists abroad had raised the possibility of attacks in the near term but such attacks no longer were expected.

The national alert level has been raised to orange five times since the system was announced in March 2002. It has never dipped below yellow, the middle of five levels.

New security regulations for airlines that were put in place by the Transportation Security Administration in the past month are still in effect. Those include a requirement that international flights carry armed guards "when necessary," restrictions on passengers congregating in airplane aisles and greater preflight scrutiny of passenger lists.

David Plavin, president of the airport trade group Airports Council International-North America, said airports can keep security tight even if the federal government tells them they don't have to.

"Every airport makes its own judgment," Plavin said. If they choose to tighten security, he said, "they're probably not going to tell you."

The decision to increase the terror alert just before Christmas and keep it there past the New Year's holiday prompted some criticism. Officials in some cash-strapped cities complained about the added costs for emergency personnel, while others said the lack of specificity about where an attack might occur needlessly put the whole country on edge.

Ridge reiterated that the decision to raise the alert came after "the most significant convergence" of intelligence indicating attacks were possible since Sept. 11, 2001. That, coupled with the prospect of many holiday gatherings of large crowds, made it appropriate to raise the level, he said.

Ridge said it won't be known for weeks or months whether the increased vigilance thwarted any specific attacks. But he said there is no doubt that the increased presence of police and other security professionals is a deterrent.

He said that when the threat level was raised previously it later was learned through interrogations of terrorism suspects that the step altered plans.

The government took a number of unprecedented steps during the heightened alert. More than a dozen flights from London, Paris and Mexico City were canceled due to intelligence indicating they could be terrorist targets. Other flights received escorts from fighter jets. Sensor equipment and undercover nuclear experts were deployed to major cities to search for radiation and bioweapons.

Governors, mayors and police chiefs are being asked to keep certain "orange-level" measures in place at specific facilities.

Washington, for example, deactivated its joint operations center, which has been staffed around the clock since the threat alert was raised, according to Deputy Mayor Margret Nedelkoff Kellems. But conference calls involving local, federal and regional authorities from as many as three dozen law enforcement agencies will continue at least once a day, she said.

"There's obviously a lot of critical infrastructure in the region, and they've asked us to pay special attention to those," Kellems said.