Saddam declared enemy prisoner of war
( 2004-01-10 09:19) (Agencies)
The United States has formally declared Saddam Hussein, held by U.S. forces since his Dec. 13 capture, an enemy prisoner of war, the Pentagon said on Friday, and the International Committee of the Red Cross asked to see Iraq's former president as soon as possible.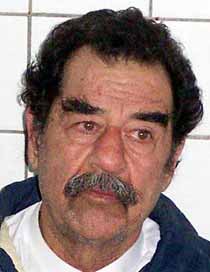 Saddam Hussein [filephoto/Reuters]

The Pentagon's first official statement about the 66-year-old captive's legal status means Saddam is due a host of rights spelled out by the Geneva Convention on treatment of prisoners of war.

"Saddam's status is that he is an enemy prisoner of war. The lawyers have determined that," chief Pentagon spokesman Lawrence Di Rita told reporters late on Friday, adding Defense Secretary Donald Rumsfeld was informed of the determination earlier in the day.

The treaty requires that the International Committee of the Red Cross have access to POWs. Christophe Girod, the senior ICRC official in Washington, said the organization was speaking with U.S. officials in Baghdad about gaining access to Saddam to check the conditions in which he is being held.

The Geneva Convention requires that POWs receive humane treatment, including not being subjected to intimidation or insult and not being turned into a public curiosity. It requires that POWs be given proper food and freedom, be free to exercise their religion and receive monthly pay depending on rank.

Air Force Maj. Michael Shavers, a Pentagon spokesman, said Saddam was being given all the rights due him under the treaty.

"The bottom line is that Saddam Hussein was the leader of the old regime's military forces, and therefore he was a member of the military, and he was captured. That makes him an enemy prisoner of war," Shavers said.

"It's unusual that you have such a high-ranking enemy prisoner of war. So I think we just wanted to make sure that we had carefully thought through all the ramifications," Shavers said.

Di Rita did not rule out the possibility the United States might re-evaluate Saddam's POW status in the future, but declined to say under what circumstances that would occur.

'NOT UPSET YET'

Girod expressed hope the United States would allow the ICRC to see Saddam in "the not-too-far future," perhaps in a few days or weeks. "We don't have any negative signals that we would not have access," Girod said.

Girod stressed the ICRC wanted the meeting "as soon as possible -- the sooner the better," but noted the Geneva Convention did not set a specific timetable for such access.

"We are not upset yet," Girod said.

Saddam was seized in a hole in the ground during a raid last month on a farm near his hometown of Tikrit.

U.S. authorities continue to interrogate Saddam at an undisclosed location in Iraq with the CIA taking the lead role. A U.S. official, speaking on condition of anonymity, said Saddam was "talking some, but not as much as we would want, and not about the kinds of things we would like."

"He is only required to give the name, rank and serial number and birth date and the like, but that does not prohibit the U.S. government from questioning him about other things," said James Ross, senior legal adviser to the Human Rights Watch activist group. "At the same time, they cannot use torture or other unlawful means to get information."

Amnesty International spokesman Alistair Hodgett said the treaty did not prevent Saddam from facing trial on war crimes and genocide charges. Hodgett said the Geneva Convention allowed for POWs to be held until the end of hostilities, but said that might be open to interpretation by U.S. authorities.

Defense officials said the United States was holding about 13,000 prisoners in Iraq but did not say how many had been given POW status.