Gone -- with grace or disgrace
( 2004-01-10 00:20) (China Daily by Chong Zi)
Death takes no holidays. It worked terribly hard last year. Among China's star artists who checked out at relatively ripe old ages were film director and actor Xie Tian (89), and Ying Ruocheng, (74), actor and former vice-minister of culture.
Xie was one of the longest-serving artists in the country's movie industry.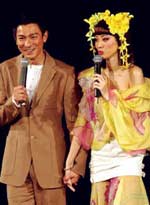 Anita Mui and Andy Lau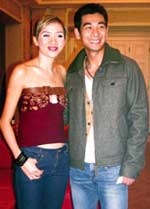 Anita Mui and Zhao Wenzhuo

Ying was cast in Bernardo Bertolucci's 1987 film "The Last Emperor,'' appeared at stage in many dramas and translated several of Shakespeare's plays into Chinese.

Their names may sound less than familiar to today's young fans of Hollywood blockbusters. But the history of modern Chinese cinema and theatre would be incomplete without the two.

The Hong Kong entertainment industry suffered a double blow, with the loss of the beautiful and versatile Hong Kong actress Leslie Cheung (46), who committed suicide, and singer/movie star Anita Mui, who lost her battle against cancer at age 40.

Cheung starred in the Oscar-nominated "Farewell My Concubine.''

Mui is said to have never failed to send shivers down her fans' spines when she sang, and it is not difficult to feel the emotion that flows from her as she performs. She won the hearts of her fans with her generosity with her friends and the needy.

Both are enormously popular icons in the Chinese-speaking world whose appeal crosses generation lines.

The passing of all of them is cause for grief and sorrow.

It does not, however, a tragedy in the cases of those who lived long, productive lives. Stars come and go. Their legacies shall now forever be etched in the Hall of Fame. Their works will continue to entertain and inspire us, as they did in the past.

I tip my hat to them. May they rest in peace.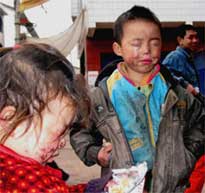 Two children, whose eyes were harmed by the toxic fumes from the fatal gas blowout, are seen Thursday in Chongquing, China. [file/Xinhua]

The saddest departure was the 243 people who died in a blast at a natural gas field in Chongqing on December 23, 2003. Investigations indicate it was an accident caused by negligence -- technical faults and failure to promptly evacuate the village people in the mountainous area where the accident happened. Actually, they were placed at the gateway to death when the big project was launched.

The collective deaths of such a large number of people should make investors who are single-mindedly pursuing maximum profit to double check their conscience.

The 243 Chongqing people were only the tiny tip of the iceberg.

Official statistics found that there were 883,000 accidents in the workplace for 2003 up to the end of November, which claimed 120,890 lives. The figure remains large, regardless of government officials announcing it was 3 per cent less than the figure for the same period of the previous year.

Accidents claiming 10 or more lives were on the rise. The bloody list of lethal accidents, from coal mine explosions to traffic accidents, has finally prompted resolute actions to shut tight the doors to death in the workplace.

In 2003, the passing of an ordinary worker has brought the country's internal migration laws under scrutiny.

In March 2003, Sun Zhigang, a 27-year-old graphic designer from Hubei Province, was detained for not having a residence permit for the southern city of Guangzhou, where he was living. Within days he had died while in police custody. In June two people were sentenced to death and 10 others received sentences up to life imprisonment for their roles in the beating death of Sun.

Sun's tragic departure, which lead the country's media to call for changes to the internal migration laws, has made a difference in the lives of hundreds of millions of Chinese who live and work outside their home villages.

The government finally rescinded the "Regulation on the detention and deportation of vagrants and beggars in the cities,'' which was introduced in 1982.

Still, Sun's case showed the role media can play. Similar instances of abuse of power by the police were considered so routine his maltreatment might not even have made it into the local press. It inspired a storm of online calls for "weiquan'' (defence of civil rights), and provoked debates over the "custody and repatriation system,'' which was used primarily in dealing with migrant workers and was the basis for Sun's detention. The online protest that ensued undoubtedly played a role in the government's decision to abolish the system and arrest the policemen and officials involved in the case.

Last year, death of several big shots merited much more attention. They earned themselves a berth in the Hall of Shame.

Liu Yong, a mafia leader in Shenyang, capital of Northeast China's Liaoning Province, almost had his life saved. He failed.

China's Supreme Court, in a rare move, stepped in and sentenced Liu to death.

Liu was convicted of a series of organized crimes such as racketeering, extortion and illegal possession of firearms.

Liu was originally sentenced to death in April 2002. He was given a two-year reprieve in August 2003 by the Liaoning provincial high court, based on the claim that his confession might have been extracted from him as a result of torture. The reversal of a death sentence often results in life imprisonment, and then a considerably lighter sentence.

The Supreme Court, in a rare review, overturned the second-trial verdict and denied the reprieve. The retrial came after massive public criticism of the high court's reversal of Liu's death penalty. It might be unfair to attribute Liu's death to the judiciary's response to public opinion. But there is no denying that the uproar has helped move the judiciary to honour its promise to promote transparency.

Li Yaoqi, former chairman of the Hainan International Investment Group, was executed for corruption in Haikou, in South China's Hainan Province, on December 29, 2003, after being convicted of illegally amassing about US$6 million and illegally channeling millions of dollars of stocks into his personal firm while his State-owned investment company went bankrupt.

His execution came a day after the disgraced former vice-governor of Anhui Province, Wang Huaizhong, was sentenced to death for corruption. A dead man walking, Wang has lodged an appeal. The result is pending.

Both Li and Wang had success, wealth and power. It was their abuse of power and ill-got gains that won them their debut with death.

Like birth, death is a natural event. But the emotional impact and personal significance of the two events are vastly different. Birth may be anticipated with excitement and optimism, while the reality of death is avoided and even denied.

While we cannot be immortal, we can choose to pass away with dignity.